History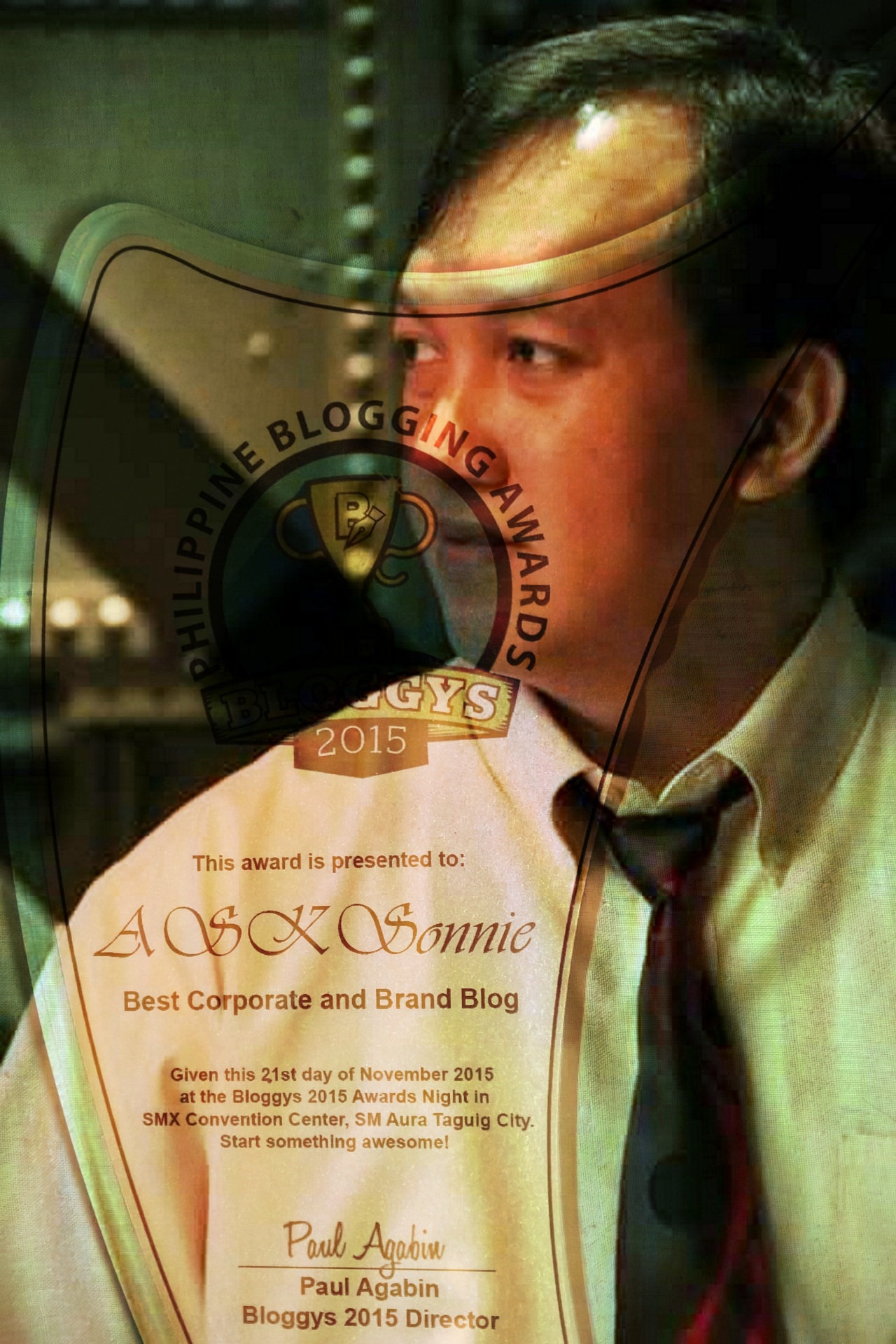 Thanks for visiting the Best Corporate and Brand Blog awardee in 2015.
ASK stands for who we are - Advocates, Strategists and Keynoters.
You may check our services menu to know how we can help in your professional, corporate or business goals.
If you're working for a brand and would like to collaborate with us, shoot us an email at ASKSonnie [at] Outlook [dot] PH.
Topics
they said…
"Personal branding is not about creating an impression but keeping a promise." - @AskSonnie #PharmacoMedia #PMS2016 #UNDERxPOSED

— PharmacoMedia Summit (@PharmacoMedia16) October 22, 2016
@Antifornicator if you get the chance, you should hear @AskSonnie speak. Very entertaining AND educational! :)

— Regina Layug-Rosero (@rejjventress) December 2, 2015
@AskSonnie made me wonder... am i sharing too much info about me? Gonna make social media inventory over the weekend. #iBlog12

— SnappedandScribbled (@snapscribbled) September 16, 2016
"Make your words sweet, because you don't know when you'll eat them in the future." -"Sonnie" Santos pic.twitter.com/hk3IJs5hAy

— Mardridge (@mardridge) October 18, 2015
@AskSonnie at the #iblog10. His blog helped him land an Asst. VP position in the corporate world in 2008. Yuppies are you listening? :)

— Pinoy Yuppie (@pinoyyuppie) April 5, 2014
Still proud to have had The @AskSonnie yesterday in DLSU-D.#anticyberbullying #guru

— albertjohn (@pucherrific) March 13, 2014
"It doesn't matter how silly your dreams maybe, what matters is who's behind your dream."
- SONNIE SANTOS, Social Entrepreneur

— KC Pitajen (@cassey14P) July 11, 2013
"If writing is your therapy, then don't [stop]." @AskSonnie

— Jelo Ritzhie (@pabebleophile) October 14, 2016
Thank you @ASKSonnie for the #HRToolBox articles. It helps us newbies in #HR and students.

— Rochelle ♔ (@ChelleAnneee) May 23, 2016
Thank You Lord for the wisdom that Sir Sonnie Santos shared to us this morning about "Digital Parenting".... http://t.co/beBiT0zbcV

— Mavic Alegre (@mavicalegre) October 10, 2015
Sonnie Santos: downside ng internet ay ang freedom of information na walang responsibility at accountability. #ResponsibleNetizens

— Diyos At Bayan (@DiyosAtBayan) September 11, 2013
#PangasinanDigital great talk by #SonnieSantos about #CyberWellness!

— Solid Hosting (@phsolidhosting) November 21, 2011
Excited for our 2nd #Empowerment Leadership Training this March with @AskSonnie Sonnie Santos for @Elabram_systems

— Grace Bondad-Nicolas (@nobodybutgrace) February 21, 2014
Successful & Influential: @AskSonnie
https://t.co/9aeg1YkLDX
pic.twitter.com/BVIrQHMpB4

— ROBERT LEE (@pinoydaddy1969) June 4, 2016