Is the end of Lumia inevitable if Windows 10 flops as the doomsayers believe?
by ASKSonnie | Customer Care, Microsoft
While the unit is still under warranty, Microsoft replaced my Lumia 1520 in two different occasions. A delightful way to keep this Windows Phone fan happy!
by ASKSonnie | Brand Management, Customer Care, Microsoft
We are living in an age where brand find ways to stand out. Brands practice social responsibility, innovate and go the extra mile.
History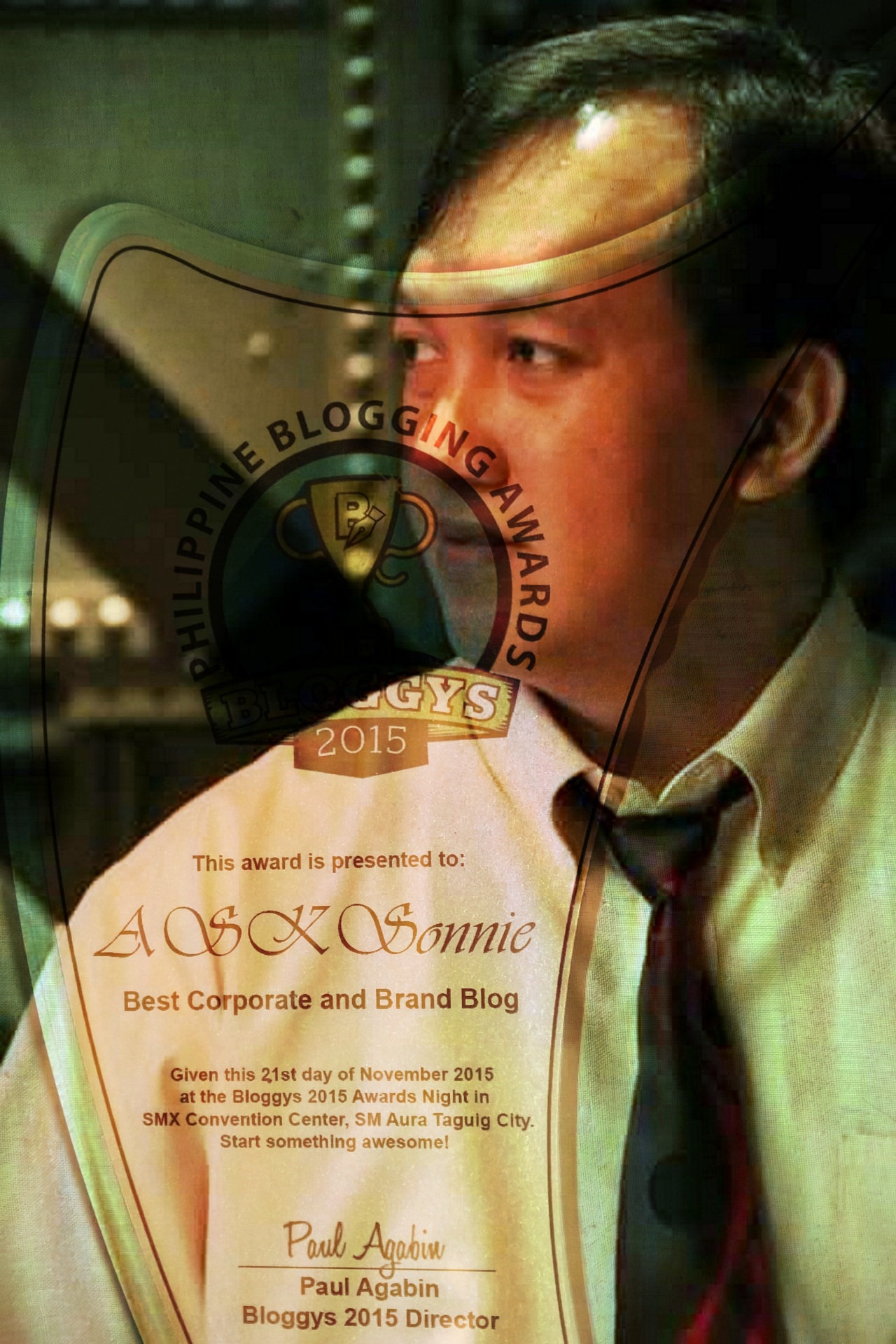 Thanks for visiting the Best Corporate and Brand Blog awardee in 2015.
ASK stands for who we are - Advocates, Strategists and Keynoters.
You may check our services menu to know how we can help in your professional, corporate or business goals.
If you're working for a brand and would like to collaborate with us, shoot us an email at ASKSonnie [at] Outlook [dot] PH.
Topics
they said…
"Personal branding is not about creating an impression but keeping a promise." - @AskSonnie #PharmacoMedia #PMS2016 #UNDERxPOSED

— PharmacoMedia Summit (@PharmacoMedia16) October 22, 2016
@Antifornicator if you get the chance, you should hear @AskSonnie speak. Very entertaining AND educational! :)

— Regina Layug-Rosero (@rejjventress) December 2, 2015
@AskSonnie made me wonder... am i sharing too much info about me? Gonna make social media inventory over the weekend. #iBlog12

— SnappedandScribbled (@snapscribbled) September 16, 2016
"Make your words sweet, because you don't know when you'll eat them in the future." -"Sonnie" Santos pic.twitter.com/hk3IJs5hAy

— Mardridge (@mardridge) October 18, 2015
@AskSonnie at the #iblog10. His blog helped him land an Asst. VP position in the corporate world in 2008. Yuppies are you listening? :)

— Pinoy Yuppie (@pinoyyuppie) April 5, 2014
Still proud to have had The @AskSonnie yesterday in DLSU-D.#anticyberbullying #guru

— albertjohn (@pucherrific) March 13, 2014
"It doesn't matter how silly your dreams maybe, what matters is who's behind your dream."
- SONNIE SANTOS, Social Entrepreneur

— KC Pitajen (@cassey14P) July 11, 2013
"If writing is your therapy, then don't [stop]." @AskSonnie

— Jelo Ritzhie (@pabebleophile) October 14, 2016
Thank you @ASKSonnie for the #HRToolBox articles. It helps us newbies in #HR and students.

— Rochelle ♔ (@ChelleAnneee) May 23, 2016
Thank You Lord for the wisdom that Sir Sonnie Santos shared to us this morning about "Digital Parenting".... http://t.co/beBiT0zbcV

— Mavic Alegre (@mavicalegre) October 10, 2015
Sonnie Santos: downside ng internet ay ang freedom of information na walang responsibility at accountability. #ResponsibleNetizens

— Diyos At Bayan (@DiyosAtBayan) September 11, 2013
#PangasinanDigital great talk by #SonnieSantos about #CyberWellness!

— Solid Hosting (@phsolidhosting) November 21, 2011
Excited for our 2nd #Empowerment Leadership Training this March with @AskSonnie Sonnie Santos for @Elabram_systems

— Grace Bondad-Nicolas (@nobodybutgrace) February 21, 2014
Successful & Influential: @AskSonnie
https://t.co/9aeg1YkLDX
pic.twitter.com/BVIrQHMpB4

— ROBERT LEE (@pinoydaddy1969) June 4, 2016