When being cyber bullied, there are practical ways to respond. But when the situation calls for it, don't hesitate to get professional, legal and police assistance.
Related Bullying and Cyberbullying Articles: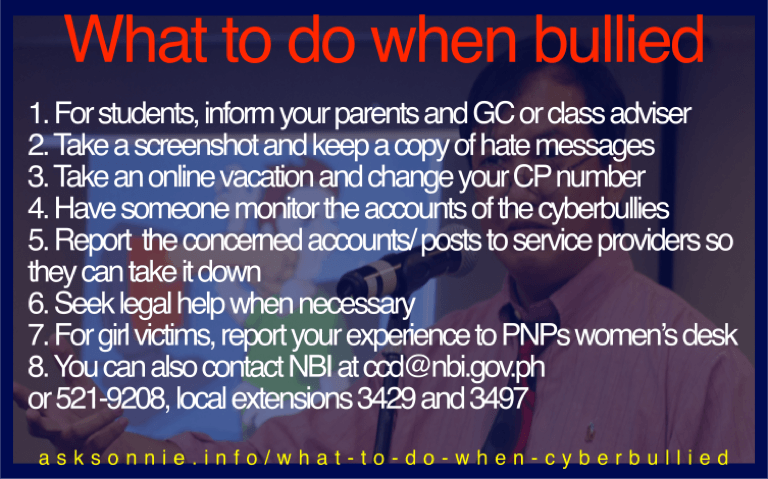 It was reported that there was an increase of cyber/bullying related suicides, and studies were being done to establish clear connection of suicide and bullying.
Although there certainly is a connection between the two, research highlights the complexity of the relationship.
Cyberbullying in the Philippines
update: the anti-bullying act of 2013 is now a law but coverage is limited to high school students and below.
Until the the bullying law was enacted sans high profile cyber lynching cases reported by media, most incidents remain under reported. Since the anti-bullying act of 2013 covers only high school students and below, adult victims, on the other hand, can seek legal remedy from some provisions of the Cybercrime law.
Adults and parents whose kids might become a victim of bullying must find time to read and understand the provisions of both the bullying and cybercrime law.
What to do when being cyber bullied
Always inform somebody when you are being cyber bullied, harassed, stalked or mobbed
As a minor, tell your parents or guardian. It is best to share this also to your class adviser or the school's guidance office. Parents, it's best to inform the principal about the incident. As required by law, schools thru the Principal or his/her designate, should conduct an investigation.
As an adult, tell someone you trust, and if harassment is work related, it is wise to give your HR a heads-up. If you're experiencing workplace bullying, here's what you can do
Always keep a copy of the hate messages, degrading images and/or videos using a browser where the url is visible when taking a screenshot
do not delete text messages, email, tweets and PMs/DMs.

Always take a screenshot of the Facebook, Twitter and other social networ's timeline
Download a copy of degrading images or videos to be kept as evidence
Block the accounts of the people who are harassing you.
Parents, do this immediately and have your kids take an online vacation
For adult victims, do this if the attacks are affecting you already but ask someone to monitor the accounts of the bully.
If you can, take an online vacation. Use a different CP numbers when necessary, but ask someone to monitor the SMS in your original number. When cyber bullied using social media, report the account, photos and videos to social network providers
Seek professional. police and/or legal help when necessary.
According to this news report, if cyberbullying is happening to you or a love one, you can contact the National Bureau of Investigation at [email protected] or call 521-9208, local extensions 3429 (Chief) and 3497 (Staff).
If both the cyber bully victim and offender is minor
*Bully is from the same school – report to the child protection committee or the guidance counselor
*Bully is from another school –  report to the offenders school
Bully is out of school youth – bring the matter to the barangay where the offender is residing
* the school will determine if aside from administrative sanction, there is a need to file criminal charges. If parents are not happy with handling, they can escalate the incident to Dep Ed.
** if there is no resolution at the barangay level, they can proceed to the Women and Child Protection Desk of the PNP or DSWD
If offenders are adult but cyber bully victims are either minor or women
Go to the nearest Women and Children's Protection Desk of PNP
Alternately, you can file an online report here: http://acg.pnp.gov.ph/main/?page_id=1047 (use cyber harassment)
Or visit either the PNP Cybercrime Unit at Camp Crame or the NBI Cybercrime Unit
If both the cyber bully victim and offender are adult
Schools and Companies, for support purposes, should have a bullying and  social computing policy; and promote surf safe practices thru learning events and other interventions.   The policy should answer for the administrative discipline of the perpetrator. Likewise, a counselling program should also be in place for victims of any forms of bullying.
Have you or a love one experienced cyber bullying? What have you done to handle the situation?