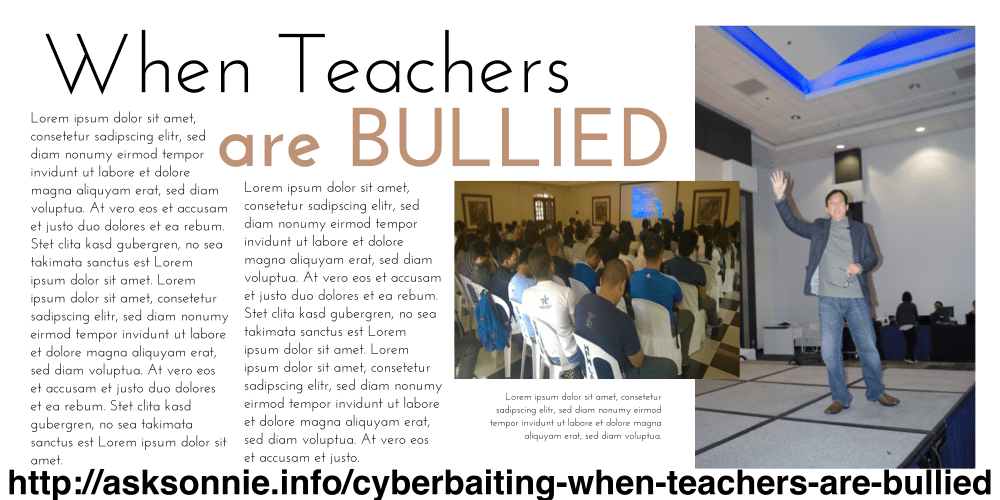 Making fun of teachers is not new, I think most of us did that at one point in our student life. But with the advent of technology, a new form of harassment emerged akin to cyber bullying. In this situation though, the teachers  are being bullied by her students.
Cyberbaiting, according to Norton Online Family Report,  is a phenomenon where students taunt their teachers to the point of outburst, then capture the teachers' reactions via cell phone videos and post those videos online for all to see. 
I remember hearing a news report a few weeks back of a teacher who was recorded hitting her student on the head. I am not saying that the teacher did not err, but it is possible that the outburst could have been initiated by the student and purposely recorded it via cellphone. Like cyber bullying, incidents like this can remain unreported.
Is Cyberbaiting a growing concern in the Philippines? Not yet. But a few months back, I have a discussion with a guidance counselor and president of the parents group about the tendency of kids nowadays to bully even their teachers. There seems to be enough reason to be ready and proactive.
With this emerging behavior of teens, schools or better yet Dep Ed, should adopt a program to increase online intelligence of teachers, and equip them to handle situations that can lead to cyberbaiting.
Founder of LODI Inc. (Learning and Organization Development Institute, Inc.) and Co-Founder of Blogwatch. Mentor and Dad of 2 Gen Z Professionals.



Advocate of #HRinHR (Human Rights in Human Resources) and #DigitalCitizenship
Strategist for  Talent, Culture & Content Development, and Cyber Wellness Initiatives
Keynoter and Facilitator of Workplace and Life Learning


Blogging since 2004.