I wrote this piece about Henry Sy Sr.  when I am still the HR head for SM Cinema. RIP "Tatang", thank you for the learnings.
"He bears no arm, but his weapon is more powerful—investments—and the war he wages no less significant than those fought by soldiers—the fight against poverty, the battle for his country's prosperity."
Thus saith by Nick Legaspi of Business Mirror about Mr. Henry Sy Sr., the Graphic Man of the Year. He further said..

"Henry Sy Sr. is a patriot. Webster's Third International Dictionary defines a patriot as: 1. a fellow countryman; and 2. a person who loves his country and defends and promotes its interests; 2. : a soldier who fights for love of country. Sy, 82, fits both definitions—a fellow countryman and a person who loves his country."
You can read Mr. Legaspi's complete write-up on the February 9-10 issue of Business Mirrors' Perspective here (link is no longer available).

Read: Henry Sy: Dreams Can Be Realized
Mr. Henry Sy Sr., is one of the tycoons in the Philippines builder of the famous SM Mall Of Asia. His SM Group is dominant in the Retail, Leisure, Shopping Mall and Bank industry.
Read: 10 Secrets of Henry Sy's Success

The 14 Work Life Principles of Henry Sy Sr. below is considered the guiding business principle of his family: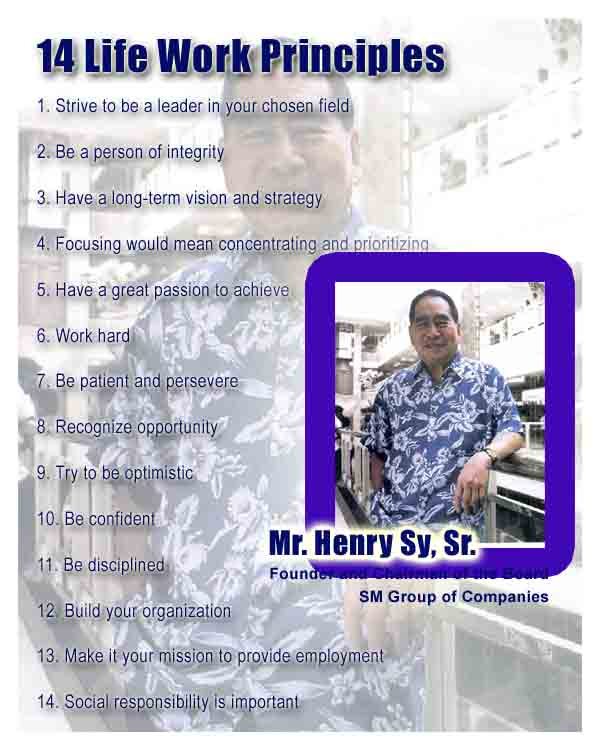 1. Strive to be a leader in your chosen field.

2. Be a person of integrity.

3. Have a long term vision and strategy.

4. Focusing means concentrating and prioritizing.

5. Have great passion to achieve.

6. Work hard.

7. Be patient and persevere.

8. Recognize opportunity.

9. Be optimistic.

10. Be confident.

11. Be disciplined.

12. Build your organization.

13. Make it your mission to provide employment.

14. Social responsibility is important.

Soft Patriotism…. What do you think?

 

Liked this article? You can