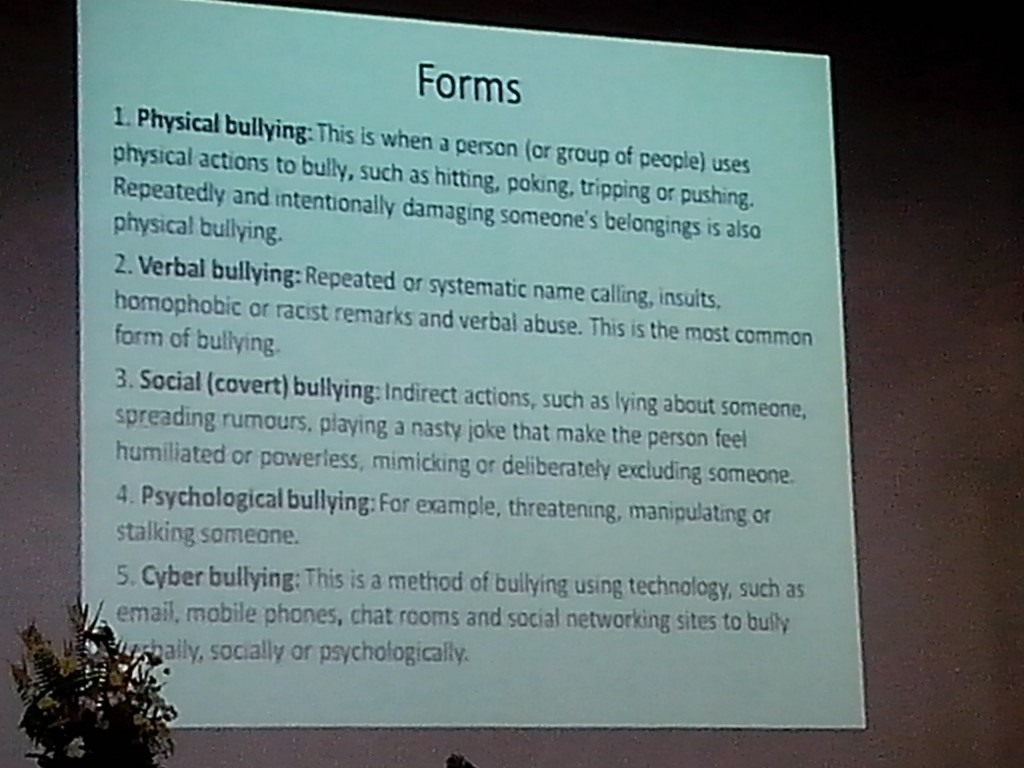 The Anti-bullying act of 2013 is yet to be rolled out completely and the problem of  bullying and cyberbullying is getting complicated here in the Philippines
After I shared the highlights of the anti-bullying act of 2013 in layman's language, I received this inquiry from a school administrator: what will be the protection of school?

READ SIGNED: Anti-Bullying Act of 2013- WHAT TO EXPECT
Interestingly this morning, I read from a news portal about teachers being bullied by students. When I wrote about cyberbaiting,  or the cyber bullying of teachers by their students, I thought cases will be rising with access to cheap smartphones. Apparently, its more than that, the title of this news report said it well, who will protect teachers from student bullies?
READ Cyberbaiting: When Teachers Are Bullied
There seems to be a growing restlessness among teachers as aired by Benjo Basas of TDC (Teacher's Dignity Coalition) because of teacher's limitation to discipline students per Dept. Order # 40 and the growing boldness of students to harass  their teachers. The worse bullying case of a teacher, according to him, resulted to death in Caloocan City.
This  also confirms the feedback I'm getting from some parents and guidance peeps..  "that kids of this generation, are a bit bolder, and they are able to bully their teachers."
While the bullying law is a step towards the right direction, new law(s) are needed to address the intertwined and complex issues of bullying and cyberbullying in the Philippines. The new anti-bullying law, among many others, requires primary and secondary schools to have:
A policy against bullying (including cyber) and the corresponding administrative procedures
Records Management and Reporting Mechanism
Counseling services for both the victim and the bully
Education campaign for both students and parents
But we also need a framework that'll address the following
Bullying cases in colleges and universities.
Bullying cases in the work place
Cyber mob akin to the experiences of Chris Lao and Jamie Paola Salvosa
Cyber harassment and Cyber Stalking
Students bullying their teachers and protection of teachers
Likewise, while we await for the IRR being formulated by Dep Ed, here are some of the likely challenges raised by school officials who are  tasked to implement the law:
Read: Salient Points of the IRR
the responsibility to review bullying cases and file appropriate cases if it falls under the revised penal code.
while most private schools have counselling services for the victim, a parallel program for the aggressor needs to be developed too.
counselling services for both the aggressor and victims, for public schools
Are you a parent, teacher or part of school admin? Let us know your Qs, concerns and issues about bullying, cyberbullying or cyber baiting and we'll try to bring this up in our upcoming coffee table discussions. Please use the comment section below. Thanks

We at WSPH, remain committed for a safer and productive web environment by giving talks, organising learning events, advocating policies and developing programs geared towards safer internet, cyber wellness, bullying and cyber abuse prevention. If you need our services, feel free to reach us us at +63 949 384 3504.

Liked this article? You can