You may also be interested to check the following:
I was asked if there is an applicable law against cyberbullying in the Philippines, given the effectivity of the Cybercrime Prevention Act of 2012 is today, Oct. 3, 2012.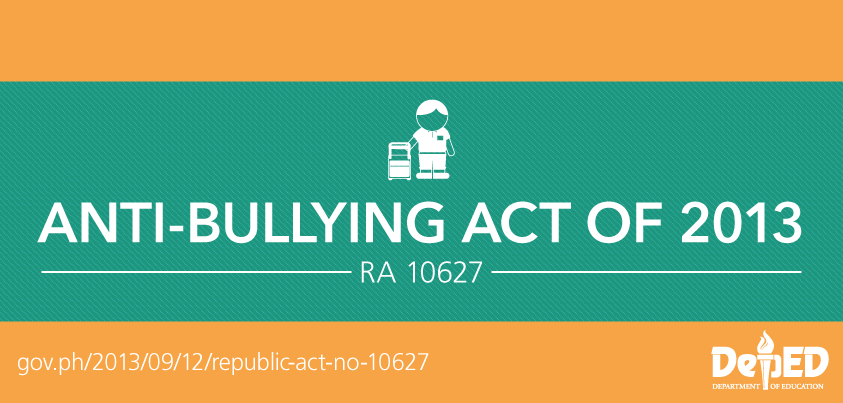 Read: Why Schools Should Have A Cyber Wellness Program
Cyberbullying is not included on the new cybercrime law, but there are pending bills filed in both houses of congress on this.
update: cyberbullying is part of the anti-bullying act of 2013 but it only covers students up to high school. Adult victims can use the other provisions of the cybercrime law, like libel and identity theft.
For minors, aside from the newly approved law, it's also widely believed that "Republic Act 7610 also known as  Special Protection of Children Against Abuse, Exploitation and Discrimination Act" is recognized as one of the possible laws that can be used by cyberbullying victims, specially if the act is done outside the school context.
ARTICLE VI- Other Acts of Abuse
Section 10. Other Acts of Neglect, Abuse, Cruelty or Exploitation and Other Conditions Prejudicial to the Child's Development. –
(a) Any person who shall commit any other acts of child abuse, cruelty or exploitation or to be responsible for other conditions prejudicial to the child's development including those covered by Article 59 of Presidential Decree No. 603, as amended, but not covered by the Revised Penal Code, as amended, shall suffer the penalty of prison mayor in its minimum period.
For adults, they can use the provisions of the cybercrime law, like online libel and identity theft if a false account was set-up to perpetuate the act.
There is a special challenge to identify the cyberbully since bullying can be done anonymously, or hide behind a pseudo online personality. But according to PH law enforcement groups, they have the capability to trace the identity of the anonymous bully.
As the pioneer in advocating cyber wellness in the Philippines, we believe one way to reduce if not totally prevent bullying and other cyber abuse incidents is "educate" stakeholders about cyber wellness.
Read: What is Cyber Wellness?
Cyber wellness education is meant to inform stakeholders of the risks associated with the use of smartphone/mobile gadgets, internet and social media, and equip them with a framework to effectively
set-up a policy against abuses and guidance on how to use said tools for value adding purposes (school admin)
set up procedure on how to handle bullying and cyber abuses, and how to help victims. (school admin)
develop a curriculum or training program for students, teaching and non teaching staff; and learning session for parents. (school admin)
use practical approaches to set-up house rules about internet and gadget use, and engage kids about gaming and social media (parents/guardians)
avoid online behaviours that will expose users to risks, observe online ethics and practice online safety behaviours (end user/students)
Here are some of our
cyber wellness
engagements with teachers as part of their faculty development seminar, and stand alone learning sessions for students, parents, and guidance counsellors.
Generated by Facebook Photo Fetcher 2
Disclaimer: The articles found on this blog do not constitute legal advise, and engagement/discussion does not signify professional client relationship. Likewise, subsequent court and administrative rulings, or changes to, or repeal of, laws, rules and regulations may have rendered the whole or part of this article inaccurate or obsolete.