Pre-requisite Read: Understanding PH Chairmanship and the ASEAN Community

TODAY,  August 8, 2017, is the ASEAN 50 celebration with the theme "Under One Light, we are One ASEAN". 
Significance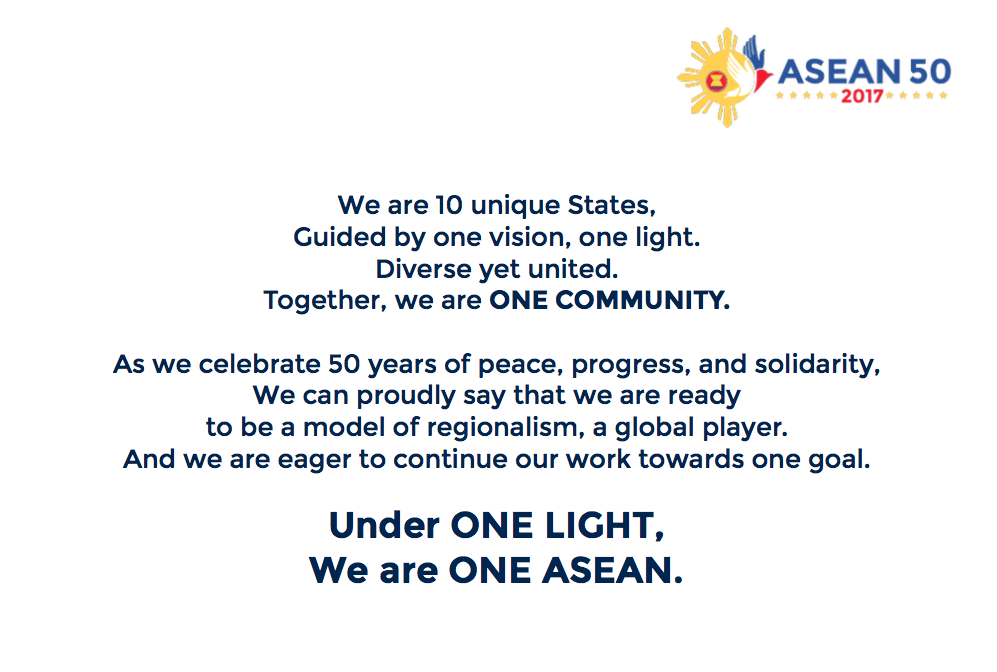 Tribute to the Founding Fathers of ASEAN

At the Philippine International Convention Center Plenary Hall in Pasay City, ASEAN will recognize the five ASEAN founding fathers-former Deputy Prime Minister Tun Abdul Razak of Malaysia, former Foreign Ministers Adam Malik of Indonesia, Narciso Ramos of the Philippines, S. Rajaratnam of Singapore, and Thanat Khoman of Thailand. ASEAN chair President Rodrigo Duterte will award plaques of recognition to the descendants or representatives of the founding fathers.


ASEAN 50 Celebration: 50 Years Ago
Five decades ago, specifically on 8 August 1967, five leaders – the Foreign Ministers of Indonesia, Malaysia, the Philippines, Singapore and Thailand – met in Bangkok and signed the ASEAN Declaration. By virtue of that document, the Association of Southeast Asian Nations (ASEAN) was born.
ASEAN 50 Celebration: Today
Guided by one light, ten nations celebrate 50 years of peace, honoring one ASEAN that stood through the test of time. #ASEAN50 #ASEAN2017 pic.twitter.com/5ofm24HK8K

— ASEAN 2017 (@ASEAN2017) August 2, 2017

In a nutshell, ASEAN after 50 years
is now a regional grouping of 10 nations, comprising all south east asian countries
is holding a regular security forum consisting of Asia Pacific Nations plus the permanent members of UN's Security Council.
agreed to have a disaster management and emergency response framework.
had preserved peace in the region
is moving towards ASEAN Community 2025
source: Center for International Relations and Strategic Studies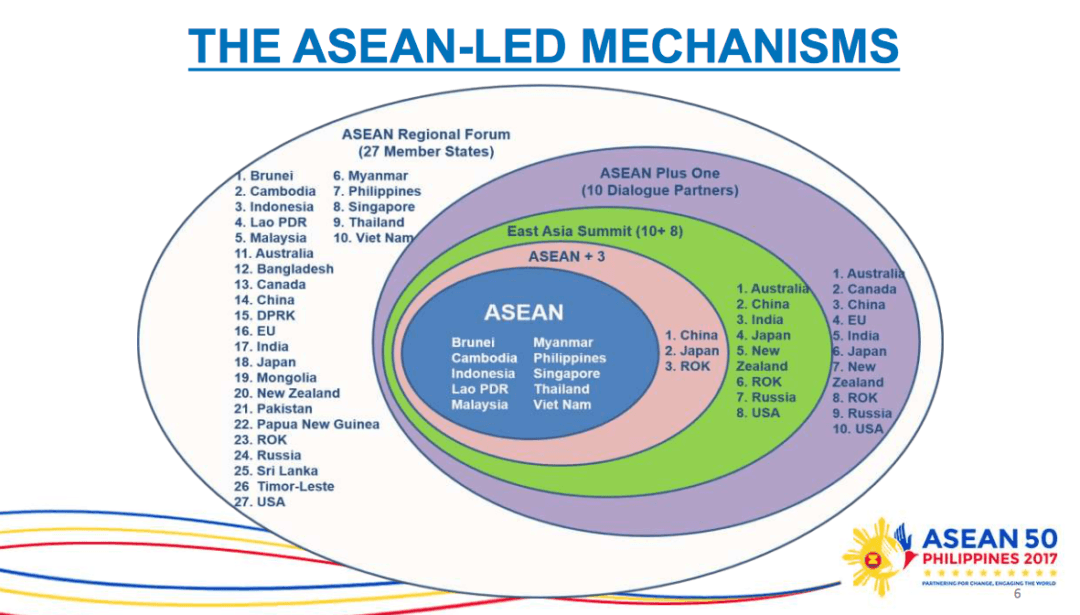 ASEAN 50 Celebration in Mobile and Social

The celebration likewise, is happening in your mobile device. Engage your friends and have fun downloading and sharing the ASEAN 50 Viber stickers. To get the stickers, scan the QR code below, or go to this link: https://stickers.viber.com/stickers/asean2017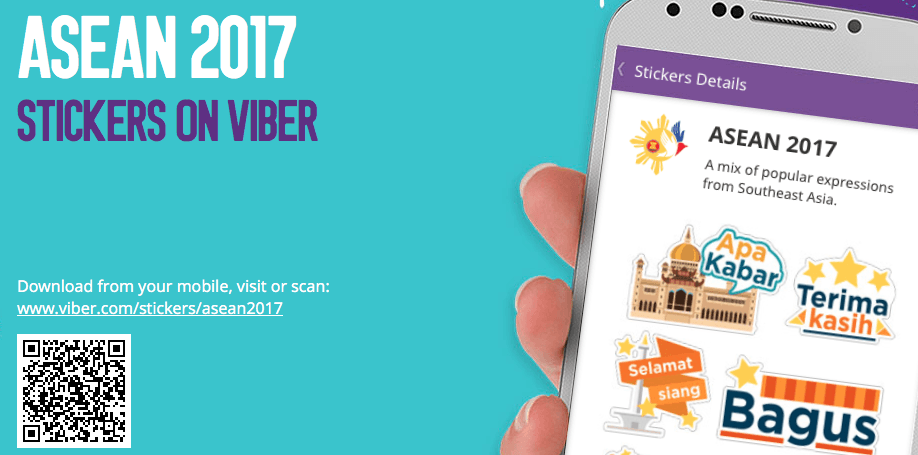 Facebook also had this "One with ASEAN 2017" profile pic. Click this link to get yours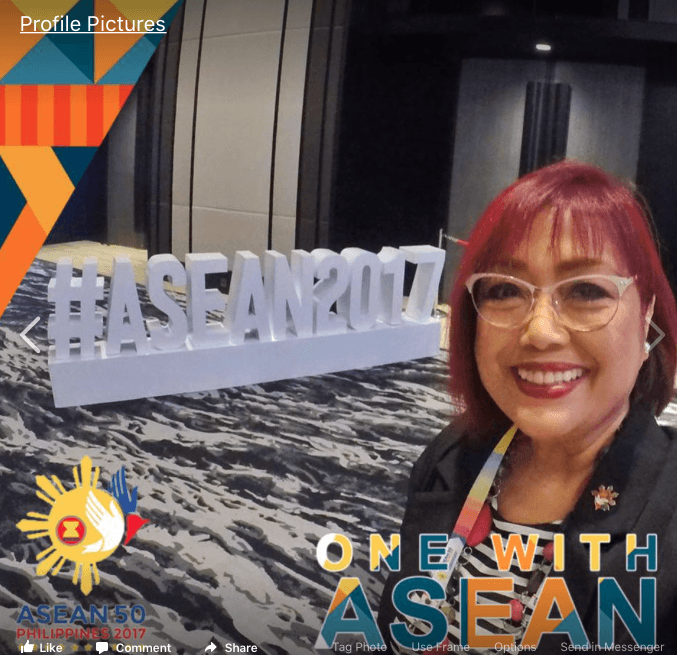 Festivities
Traffic advisory


Blowing of Horns at Manila Bay, Pier 3 and selected Ports nationwide, at around 8AM

Parade will start at Luneta, Quirino Grandstand, assembly area is at the South Road of Quirino Grandstand

Parade route will be Roxas Boulevard and destination is Cultural Center of the Philippines



MMDA will head the grand parade contingent with drum and bugle, marching band, street dancers representing different sectors



Upon arrival at CCP, the lighting of the ASEAN Landmark and Lantern will commence.

At 7PM, a FREE pop concert will start at the BGC Amphitheater in Taguig City, PH will be represented by Christian Bautista, and one pop star from the other ASEAN nation will also perform. Aside from the pop stars, the following artists will also perform:



Buses are available to bring people from CCP to BGC for the concert, but the activities at CCP will be telecast live to BGC, and the concert at BGC will also be telecast to CCP.

Summary




While we cannot be part of the ministerial meetings and related events, we can show-up and be part of history during the public events. See you guys!



Liked this article? You can