Why we should stop comparing ourselves with others and just focus on our own goals


Have you ever felt discouraged or inadequate when you see someone who seems to have it all? Maybe they have a successful career, a happy family, a fit body, or a beautiful home. You might wonder how they do it and why you can't be like them.

But comparing yourself to others is a surefire way to lower your self-esteem and sabotage your happiness. It can also distract you from pursuing your own goals and dreams. Instead of focusing on what you have and what you can do, you end up wasting your time and energy on what you don't have and what you can't do.

That's why I want to share in this blog post a personal story that taught a lesson about competing with myself instead of others.

In one of my previous runs, as I passed by one of the gates to Malacanang Palace, I noticed this female member of the Philippine Navy running from a distance.

After a few minutes, this uniformed lady overtook me after I crossed Ayala bridge in Manila. My competitive spirit nudged me to run faster and overtake her.

I tried competing, but it only overstressed both my lungs and my legs. Because not only is this lady younger, but she is also in better shape than I am.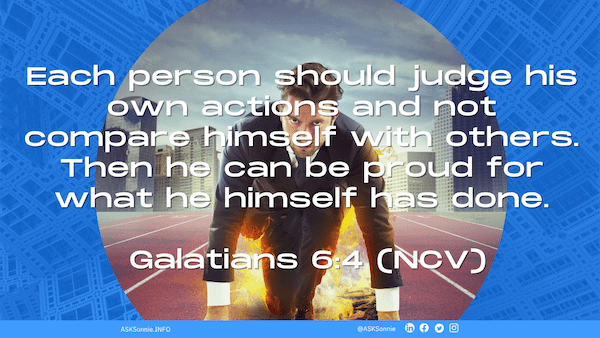 Then this competitive voice castigated me for failing and urged me to give up because my efforts to be in better shape thru running is futile. While I basked in negative emotions, the military woman just went on with her routine unaware of what's happening. That's exactly what happens whenever we compare ourselves, and compete with others- the people we are supposedly competing with just go on with their lives unaffected and likely unaware of our negative emotions.

Instead of feeling bad, I kept my pace and continued running.

After a while, I realized I already surpassed my previous best of 7 km. It felt good! This motivated me to continue competing with myself until I beat again my personal best of 10 kilometers, which I set 20 years ago.

Work and life challenges might be different from running or other form of exercises, but we can approach it with similar mindset- acknowledge the difficulty, prepare ourselves and take on the challenge. We can have meaningful victories if we first compete with ourselves and surpassing our personal best before benchmarking with others.

This lesson can bring us a great deal of mental peace and fulfillment if we take it to heart.

So next time you feel tempted to compare yourself to someone else, remember that you are not in a race with them. You are in a race with yourself. And the only person you need to beat is the person you were yesterday.


Competing with others is stressful, but competing with yourself is rewarding






Liked this article? You can