Update:
Here's the manifesto made by the students after the two day event. They, likewise, brought the same advocacy to their respective schools, and even lobbied the local government to support the advocacy.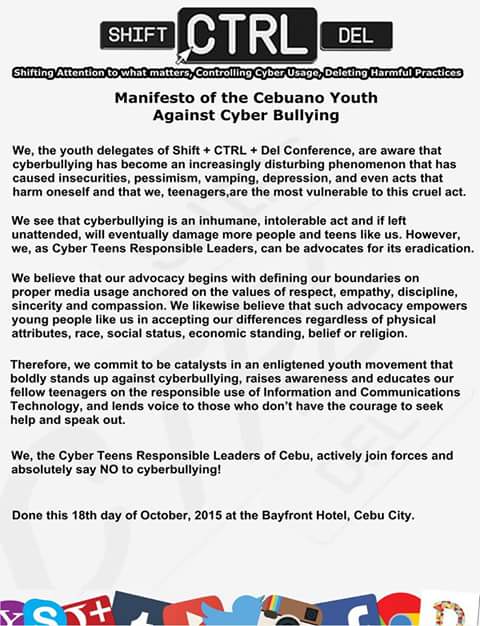 The United Nations Children's Fund (UNICEF), Salesians of Don Bosco and Child Protection Network joined forces and held a youth conference on cyberbullying called Shift-CTRL-Del: Cyber Teens Responsible Leaders last October 17 – 18 at Bayfront Hotel in Cebu City.
Over 340 students, educators and guidance counsellors from about 100 public and private schools from the cities of Mandaue, Cebu, Lapu-Lapu, and Dalisay attended the said cyberbullying conference.
It is both a pleasure and honour to be the main speaker of the two-day cyberbullying learning event, capping the 1st day with a session for teachers and guidance counsellors.
My talk for the youth revolves around social media as double-edged sword. Emphasising the need to be mindful of their behaviour. The internet is a neutral tool, their behaviour will determine if social web can make or break them,  and people close to them sharing either the joy or pain of their behaviour . Reminding them too, that neither the democratic space we enjoy, and their inclination for fun should not be used as a license to commit cyberbullying and other forms of online abuses.
My time with the educators  is more of facilitation to get the best practices that will help address the difficulties of both teachers and guidance counsellors.
Admittedly, majority of those in attendance admit they lack the competency to handle online abuses, and laments that the the anti-bullying  law are not properly implemented. Add to that, since not all public schools have guidance counsellors,  a teacher doubles up to that role.
The most important issue that was raised, is the lack of policy or mechanism that will also protect  educators from abusive kids (and sometimes parents) who also bully them online (cyber baiting) and offline.
Here are some of the suggestions noted during the session.
Those in attendance can start networking amongst themselves and share best practices
Lobby to schools officials to incorporate cyber wellness in the faculty development program to bridge the digital divide and train them to handle cyber abuses.
Lobby to schools officials to strictly follow the provision of the anti-bullying law, specially on the educating students and parents, and the restoration/counselling requirements.
Lobby to Dep Ed to formulate a policy that will also protect the teachers from student and parent bullies
Tap the available resources, both online and offline, to help them enhance their competence to handle cyberbullying and other forms of cyber abuses.
Child Protection Network will launch a website specifically to help educators and youth alike to combat cyberbullying.
Check out these photos of the cyberbullying learning event, courtesy of Mulat Pinoy:
Sources and Credits:
Founder of LODI Inc. (Learning and Organization Development Institute, Inc.) and Co-Founder of Blogwatch. Mentor and Dad of 2 Gen Z Professionals.



Advocate of #HRinHR (Human Rights in Human Resources) and #DigitalCitizenship
Strategist for  Talent, Culture & Content Development, and Cyber Wellness Initiatives
Keynoter and Facilitator of Workplace and Life Learning


Blogging since 2004.