NBI Pushes for one social media account per person and pre-paid SIM card registration to combat negative online experiences.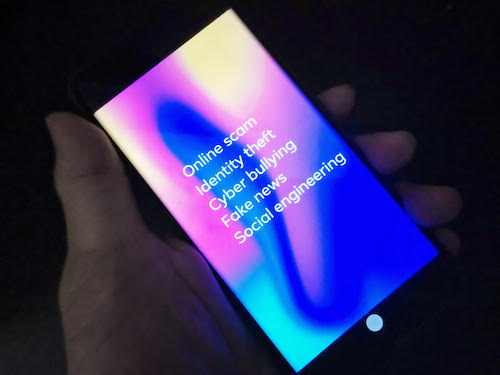 One news reported that the National Bureau of Investigation is seeking the passage of laws that would mandate one social media account per person and the registration of prepaid subscriber identity module (SIM) cards in the Philippines. This is to address the increased negative online experiences and cybercrime. The bills on these proposals are pending before both houses of congress.

"Malaking tulong sa law enforcement perspective 'yung one person, one social media account. Malaki din tulong 'yung SIM [Card] Registration Act natin (It would be a big help on the law enforcement perspective if there is a law on one person, one social media account. Another big help would be the SIM Card Registration Act)," NBI-Cybercrime Division chief Victor Lorenzo said on Tuesday, Aug. 10, 2021.

In a democratic space, negative online experiences abound- from abuse of digital rights specifically free speech and right to be anonymous, to cybercrime.

Just recently, chaos happened in vaccination sites in Metro Manila because someone's post sows fear and triggered people to troop to vaccination sites disregarding health protocols. A classic case of social engineering. Though NBI considers this incident as plain naughtiness.

But troll farms are being used in politics for disinformation to shape public opinion. In some cases, those who have axes to grind against someone also uses a troll, or him/herself uses an anonymous account to spread malinformation to destroy their subject's reputation.  Fake accounts are also being used to scam delivery riders of fake food orders and cyber bully personalities whom they do not like or disagree with, or worse, harass someone just for fun.

In the same token, unregistered pre-paid sim cards are also being used for fraud.

And because we are forced to go digital as a result of the covid-19 induced quarantine, negative online experiences and cybercrimes like identity theft,   online scam and online libel also increases.

This quote from a motoring influencer best describes the lack of self-regulation and discipline of Filipinos. Sharing a photo of riders who are using the exclusive bus lane in EDSA, he said "the reason why we can't have good things in life"

In the same way, the abuse of free speech and the right to be anonymous can push the government to censorship and regulation.



Do you agree with the NBI proposal? Do you have other suggestions to address negative online experiences and cybercrime? Let us know in the comments section below.




Liked this article? You can