Can we limit the movement of the unvaccinated? When NCR reaches micro herd immunity, this can happen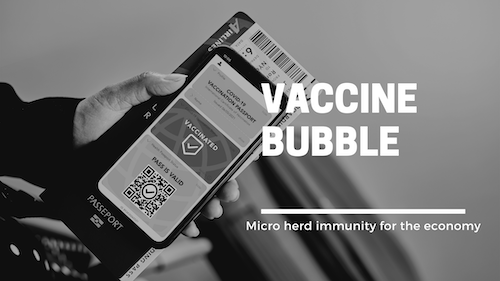 A vaccine bubble is a cross-border travel concept being implemented in some countries, may soon find its way in Metro Manila.

I found this news report disturbing because it's like saying we are damned. If community quarantine is the governments' main strategy to slow down the pandemic, but the implementors in barangay and public transport are just giving lip service, OR the public themselves are not following, then we need a better strategy lest we will all suffer worse.

By the looks of it, the public has chosen kabuhayan (livelihood) over the risk of exposure to the virus. I also noticed the same in our local market. Ambulant vendors abound and small stores which are not supposed to open are biz as usual. Though the government provides ayuda (financial assistance), roughly US$20 per person or US$80 for a family of 4 for two weeks, it is not enough. Not to mention the beneficiary list of the local government or the social welfare services are being questioned. It was alleged that those on the list benefit only the tambays (loiterers) and not those who were affected by the lockdown- people who can work but were prevented from, or those who lost their job. Affected workers, including those in the lower middle class, were left to attend for themselves if their employers don't extend any assistance for them.

Since a sweeping lockdown is no longer effective, we might as well consider other options. The suggestion of Joey Conception looks appealing– A vaccine bubble when NCR reaches micro herd immunity.
 

The Vaccine bubble

Micro herd immunity is defined as the national capital region reaching a 50% vaccination rate for its target population. Once this is accomplished, the vaccine bubble will be introduced in Metro Manila.

The NCR iteration of the vaccine bubble is allowing vaccinated individuals more movement to jump-start the economy.  While the movement of the unvaccinated is limited to work-home and vice-versa.

Unlike in sweeping lockdowns where companies are restricted to operate unless they belong to allowed industries, in a vaccine bubble, companies regardless of their classification are allowed to operate if employees are vaccinated.

In a relaxed quarantine classification, more economic activities are allowed for vaccinated individuals like shopping, dining in restaurants, public learning, entertainment events, cross-border travel, and tourism.

Vaccinated customers served by evenly vaccinated service providers, from public transportation to business establishments, is the vaccine bubble framework.


When we limit the movement of the unvaccinated people, can this be considered discrimination?

There are existing laws of discrimination in the Philippines, but nothing specific on the movement of the unvaxed.

The freedom of movement is a human right. Though it was also guaranteed in article III Sec 6 of the Philippine Constitution, where it says "The liberty of abode and of changing the same within the limits prescribed by law shall not be impaired except upon lawful order of the court. Neither shall the right to travel be impaired.."

BUT it also gave exception in cases of "… national security, public safety, or public health, as may be provided by law."

It appears that regulating the movement of the unvaccinated is permitted for public health and safety reasons. The different quarantine classifications have already regulated our movement, so this is nothing new. However, such a move might face strong resistance. Thus, if an executive order to implement this will be challenged, both houses of Congress can pass a law to support such directive.

Since the government needs to equally attend to PHs ailing economy, and NCR already made some headways in vaccination, albeit slowly because of supply issues, giving the vaccine bubble a shot is being considered by the government.



Are you all for this or do you have another suggestion? If you are the HR of a company, have you done preliminary mapping to prepare for any eventuality?




 

Liked this article? You can