Workplace bullying‬ is regarded by many as a normal work hazard, and to report (and/or complain) that you're being bullied is regarded as weakness, thus, the incident remain under reported.
If you have been working for quite sometime, chances are, you have either witnessed workplace bullying, just like the story narrated in this blog, or you experienced some form of office harassment yourself.
Nature has its way to expel the weak, and unless the subject toughened as a result of the bullying, the only recourse is to quit.
On the other hand, there are those who stand-up for victims, which is not necessarily bad. But the risk of having a business operating like a social welfare agency will greatly affect the competitiveness of the company because employees are wimp, not toughened up by the culture.
The debate on this has been ranging for quite some time, thus, we decided to conduct this special learning event.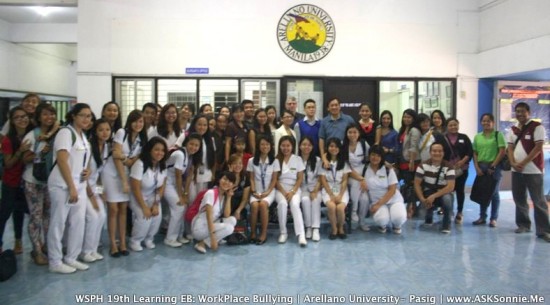 ‪
Psychology students and professionals trooped to Arellano University- Pasig for the 19th edition of WSPH sponsored Learning EB to discuss workplace bullying.
We looked at the three perspectives of workplace or office bullying
HR/ People Management
Scholarly and
Legal
Atty. Chris Lao discussed the legal perspective,  LinkedIn and FB friends Annaliza Tan and Thea Patricia shared their research for the scholarly point of view, while I shared the HR perspective.
On the legal point of view,  Atty.  Chris challenged the audience on the danger of over emphasising office bullying because this can be tantamount to cuddling the weak. Organisations should allow the normal process of weeding out the undesirables thru what Charles Darwin believed:
It is not the strongest or the most intelligent who will survive but those who can best manage change.
"Where do we define the line that separates a natural process, to that of abuse and workplace bullying?" This is something that sponsors of the bill against workplace bullying and HR/Admin to decipher. On the scholarly side, Annaliza and Thea both shared their research respectively to connect bullying to employee turnover and other employee behavior.
Annaliza provided  the birds eye view of  workplace bullying, based on the available scholarly materials that has been published. Below is her powerpoint presentation:
Thea, on the other hand, shared the status of her research on how workplace bullies can cause another employee to resign.  Below is the presentation of her research:
On HR perspective, I presented my personal observation and experiences gained from my 20 years in HR practice. The bullets are found below but should you want the explanation, please read my earlier post about  office bullying.
Workplace Bullying is similar to traditional bullying in one way, but because the environment and players are different, the acts are "classy".  In office bullying, the objective is defined before the harassment starts. The aggression, though obviously felt by the victim, is carefully executed by the aggressor,  so it'll not be obvious to others, specially to HRD. It is not office politics, though in some cases, an element of bullying is present when an employee is politicking.
How to handle workplace bullying
If you're a recipient of bullying,  I am recommending a 2-step approach:
stay calm
Since office bullies are classy, you need to be classy too, in your response. At the onset of aggression, UNLESS crime has been committed or obvious physical and emotional harm was inflicted, you have to take a step back and just stay calm
head-on
By taking a step back, it does not mean you'll just take all the blow. You need to hold your fire, until you have done these 8 things.
8 things to do to head on with the office bully
Always keep an audit trail
Audit trail is proof that you endorsed or you received something that is work related. This will protect you from set-up and sabotage if the aggressor wants to pin you for incompetence or negligence
Keep a copy or screen shots of exchanges (email, SMS, social media)
These can establish history of aggression and motive.
Perform your job well
The bullies will take a back seat and re strategize if you are doing your job exceptionally well
Do not be late
If you are consistently tardy, you are giving them extra ammunition to take you down
Do not abuse your privileges
This is especially true if you hold a position. Abuse is a valid issue by subordinate bullies against their bosses.
Do not react
The bully's action can cause you to react. And if not careful,  you'll do stupid things or say words that you'll later regret
Know your company policies
In this way,  you can objectively build a case against your aggressor. Please note though that item 1-6 can make or break your case
Know the law
Though there are no law that defines workplace bullying, these laws can be of help in certain situations

Article 285 of the labor code- this can be invoked if you received serious insult from boss bullies
RA 7877 or the anti-sexual harassment law
RA 6725  a law against discrimination against women in the workplace
Provisions on the revised penal code when harm is already inflicted on you
Cyber crime law for online libel
After you have done your homework, and are equipped w/ evidence to substantiate your claim, at anytime, you can head-on with an office bully. 2 ways  to head-on :
Give the office bully a dose of his own medicine.
Present your case to HRD and your immediate head (or the boss of your boss in case your boss is the bully)
If you're part of HR, let me share what I did to address workplace bullying.
Find the balance between the natural process of weeding out the weak, and bullying.
In your code of conduct, define what constitute harassment or bullying
Instil a culture of respect
Ensure appropriate training interventions are in place to equip employees (to perform their job).
Ensure that performance evaluation are inclusive and objective
Train line and middle managers on the right way of removing undesirable employees, when other interventions has been exhausted
Have a feed backing mechanism like induction, to detect early signs of bullying.
Have a coffee session with likely bullies, on dealing with their issues thru open communication
Have you experienced workplace bullying? How did you face the problem and the bully? What can still be done to prevent office bullying? Join the  conversation and speak your mind.
Generated by Facebook Photo Fetcher 2