For several weeks now, we have been discussing due process and termination of employment. Today, we will talk about resignation.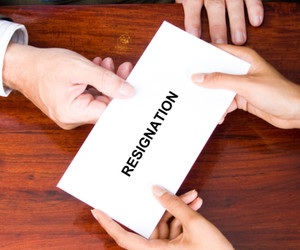 There are two approaches to end the employer-employee relationship, the first one is the ground zero of our recent blog series– employer initiated which is termination.

The second one is the focus of this post– employee-initiated which is resignation.

There is a notion that due process seeks only to protect employees. That is not correct because management interest is also taken into account in due process. It protects the interest of business owners from employees who AWOLs and abandon work, and from resignation that is not compliant with the labor code.

Can you still recall in my previous post that one element of due process is procedural? These are the steps one must undertake if it wishes to assert its right over the other (management to employee and vice-versa).

So if an employee wishes to end her employment, what are the steps s/he needs to undertake?

Art. 285 *300. Termination by employee.
An employee may terminate without just cause the employee-employer relationship by serving a written notice on the employer at least one (1) month in advance. The employer upon whom no such notice was served may hold the employee liable for damages.

Non-compliance will result in financial liability arising from the effects of employees' immediate departure. Your clearance and related certifications may also be withheld pending the settlement of financial damages.

But there is an exception to this requirement, and that is when grave abuse is committed by the employer.  Continuing Art 285 *300…


Art. 285 *300. Termination by employee.
An employee may put an end to the relationship without serving any notice on the employer for any of the following just causes:

Serious insult by the employer or his representative on the honor and person of the employee;
The inhumane and unbearable treatment accorded the employee by the employer or his representative;
Commission of a crime or offense by the employer or his representative against the person of the employee or any of the immediate members of his family; and
Other causes analogous to any of the foregoing.


Under this circumstance, you, however, can leave the company outright even without notice. But keep in mind that the burden of proof is on you, so keeping tabs on documentary and/or testimonial evidence(s) is wise.


* renumbered articles of the labor code (download your copy)




Are you planning of leaving your employer? Complying with the resignation requirement will spare you from unnecessary trouble in the future.






Disclaimer: The articles found on this blog do not constitute legal advice, and engagement/discussion does not signify a professional-client relationship. Likewise, subsequent court and administrative rulings, or changes to, or repeal of, laws, rules, and regulations may have rendered the whole or part of this article inaccurate or obsolete.







Liked this article? You can