As a result of COVID-19 lockdowns, online lending apps became the go-to guys of those in financial distress.


In episode 5 of  #ASKConversations in Twitter Spaces, Dwayne and I were supposed to tackle a different topic. However, some HR acquaintances expressed serious questions about the issue at hand, so we shifted to address this recurring problem amongst HR.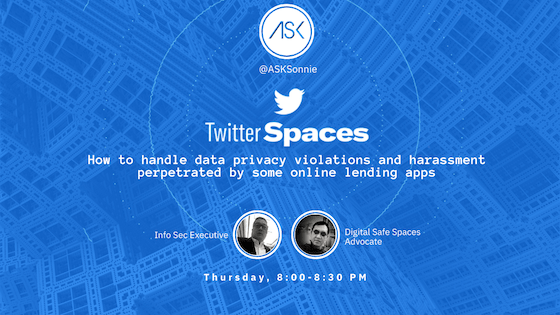 Because borrowing money was made easy, and some people are desperate, many have turned to online lending apps to make ends meet.  All seems well until the lendee failed to settle their obligations, and the lender resorted to unfair collection practices


What online lending apps are doing

As a general rule, before we can download any app, lending or otherwise, we must first grant permission to access our device's partitions. It might be our contact list, calendar, storage, camera, or microphone.

However, some of these online lending apps, require additional access to a borrower's mobile device as a pre-requisite prior to approving their loan.

When a borrower fails to pay their debt on time, some of these online lending apps will recommend that they take another loan from an affiliate lending company to pay off the existing loan. This cycle will continue until the lendee is insolvent and unable to repay its debt.

However, when a borrower defaults, some online lending apps will access photos on their device or open their camera without their knowledge to photograph them. Collectors will harass borrowers using the data mined from their mobile devices.  Placing a call or sending email, SMS, chat messages to the lendee's phone contacts and social media accounts.


Why it is an 'unfair debt collection practice'

You have the right to recover your money as the lender, right? True, but there are limits to what the lender can do to recoup its losses.

First, even though the Usury Law (Act # 2665) that sets the maximum interest rate of 12 percent per annum for secured loans and 14 percent for unsecured loans was suspended,  courts can still set aside the agreed interest rate if it is excessive.

Second. there is a directive against unfair debt collection practices which prohibits violence, threats, profanity, breach of data privacy among other acts that violate basic decency and human rights.

Finally, the Data Privacy Act requires the processing of personal data for loan-related transactions to adhere to the principles of transparency, legitimate purpose, and proportionality  (NPC Circular No. 20-01). What these online lending apps did with lendees' personal information was excessive, and they used it to embarrass delinquent borrowers.


What are the remedies available for harassed borrowers?
For excessive interest rates:
For violation of data privacy rights
How HR should respond if a debtee employee is being harassed and data privacy rights of the company and other employees were violated

It is up to the HR department whether they want to get involved in an employee's personal affairs or not. However, reprimanding the debtee employee may not be the best course of action "at this time". Keep in mind that the COVID-19-induced economic lockdown brought many Filipinos to their knees. And the quick cash provided by these online lending apps provided them temporary relief.

However, the excessive and non-proportionate use of the information mined from the debtee's mobile device is something that HR and the company should not take sitting down. The loan agreement is between the employee and the lending company. In no way the other employees or the company is a guarantor so the lending company has no legal or moral position to involve them.

Employers must equip employees to be diligent in observing digital rights, privacy protection, cyber wellness, and digital safe spaces in the future, given the Data Privacy, Cybercrime, and Safe Spaces Act. We can only reprimand employees for not knowing any better and falling victim to online loan sharks after we have trained them and aligned company policies on the subject.

I was touched by some companies' compassionate stance on this issue. They stood by their harassed employees and assisted them in filing a complaint with the SEC and the BSP about the excessive interest rates. In addition, a complaint was filed with the NPC, DOJ, and the Cybercrime Divisions of the PNP and NBI for the violation of data privacy rights.

Because we are not yet out of the woods economically, a similar situation is unavoidable. Dwayne and I recommended doing the following:
Introduce a voluntary compelled savings plan for employees in which the employer matches employee contributions by 5-10%. Employee salaries, incentives, and bonuses could all contribute to these savings. These funds can only be withdrawn in the event of an emergency, lockdown, or separation.
Financial literacy program for employees
Quarterly or semestral release of pro-rated 13th-month pay
Encourage employees to only avail of financial services from established providers
Roll-out cyber wellness and digital safe spaces program
Incorporate digital hygiene practices both inside and outside of the workplace.

For example, the use of sandbox, and other privacy apps to protect the data in the device.

Update employee code of discipline to include social media, internet, chat, email behavior.
Have you received a message from debt collectors threatening a coworker or a friend? What steps did you take to deal with the situation?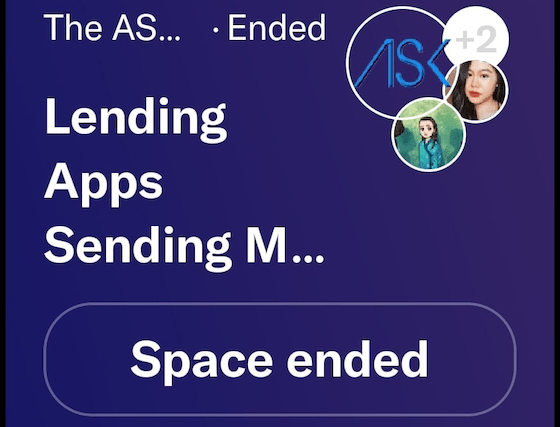 Liked this article? You can