Zomato is now giving 10 day 'period leaves' for women employees


The late Sen. Miriam Santiago filed Senate Bill 1687 in 2004 to extend 1 day leave every month with 50% remuneration for women employees who are experiencing premenstrual or menstrual tensions in the Philippines. For whatever reason, the bill did not take off.


On the other hand, Zomato hit the headlines with its bold move to promote inclusivity and women welfare. Founder & CEO Deepinder Goyal, on August 8, 2020, sent a note to his employees announcing the new benefit.


At Zomato, we want to foster a culture of trust, truth, and acceptance. Starting today, all women (including transgender people) at Zomato can avail up to 10 days of period leaves in a year.


Why 10? Most women have ~14 menstrual cycles in a year. Adjusting for the probability of you having your periods on a weekend, you can now rightfully avail 10 extra leaves compared to men
You can only take one-period leave for each menstrual cycle
Zomato understands that men and women are born with different biological realities. It is our job to make sure that we make room for our biological needs, while not lowering the bar for the quality of our work and the impact that we create
There shouldn't be any shame or stigma attached to applying for a period leave. You should feel free to tell people on internal groups, or emails that you are on your period leave for the day
In case you face any unnecessary harassment, or distasteful comments from men or women about the fact that you applied for a period leave, or that you are vocal about it, please report them – our prevention of sexual harassment (POSH) team will quickly spring into action

Menstrual or period leaves as an additional benefit for women is not new. There are similar laws in South Korea, Indonesia, Japan, and Taiwan. Likewise, some companies also allow the use of its sick leave benefits for menstrual cases.


Advocates of inclusivity laud this initiative because it removes the taboo associated with menstrual periods and a step towards accepting diversity in the workplace. But some female corporate leaders felt conflicted about period leaves and saw this as a drawback.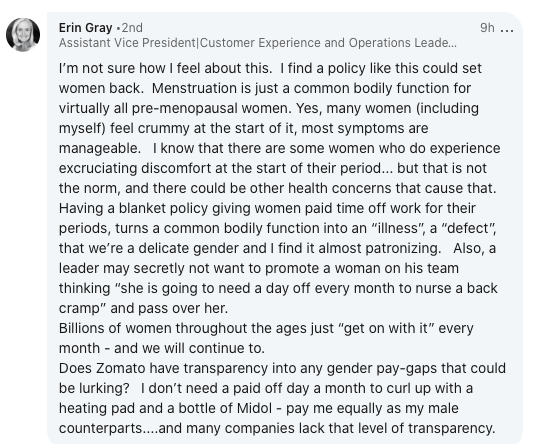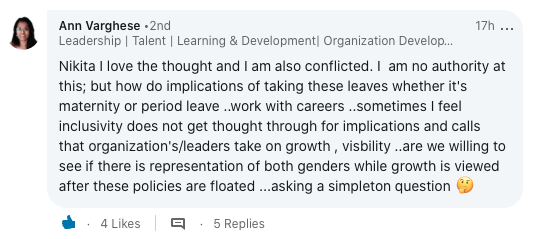 Do you think this will benefit female employees or it'll only bring a different form of discrimination?





Liked this article? You can