Interesting HR reads:
HR 3.0 is the fusion of culture, geo-economics and technology
Should HR go digital, social and mobile? Why not?
Some years back, a survey shows that HR practitioners were at the tail end when it comes to adapting technology. This is not necessarily bad, waiting a little while until the hype subsided and all risks are identified, is a prudent move.
Several years have passed since the digital community was revolutionised by social media and now with more "gen Ys" joining HR Division, is HR ready to jump in?
READ: HR 2.0 is the "New" Old School in Human Resource
HR  3.0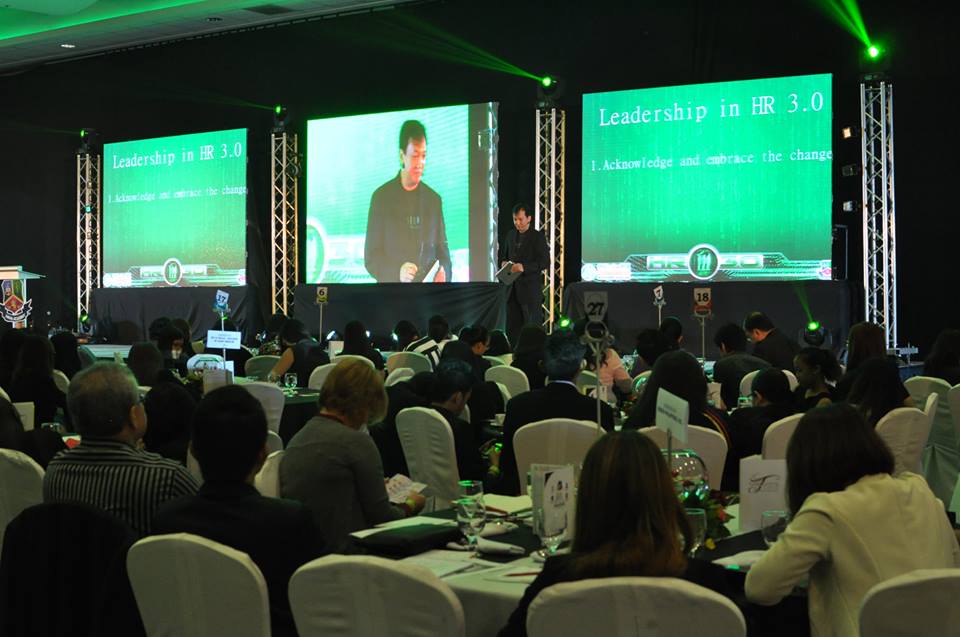 HR 3.0 track by ASKSonnie at the 9th Philippine HR Congress


HR 3.0 is being considered  as the next major transformation of HR.  The 3.0 era is the fusion of culture, geo-economics and technology, with the following determinants in mind:
More digital natives, will join the workspace, influencing the employer brand and organizational culture with the cyber age:

Connected 24/7
Content on demand
Social sharing and Selfie
MMORPG

ASEAN integration.
HR Technology

HR silos and processes that is either anchored on the "cloud" or stand alone ERP
HR Services on Mobile Apps

Big Data in HR Analytics
Gamification of Employee Programs
HR Challenges
Interestingly, the keynote speaker, Ms. Alma Rita Jimenez, a former HR intern but now the President of Health Solutions Corporations, and Chairperson of  Trade, Industry and Tourism committee of the Management Association of the Philippines, presented the challenges modern-day HR practitioners are facing. Let me highlight the ones important affecting adoption to HR 3.0:
The challenge of engagement
The digital natives, or the millennials, are wired differently and they  have their own set of values and expectations. Engaging these group requires a different approach.
The challenge of hr technology
In the Philippines, we are still on the period of automation, but first world based industries are already looking at robotics to improve productivity.
The challenge of workforce and organizational transition
The changes brought about by technological advances will require a new wineskin. Thus, HR needs to future proof the organization and make the transition close to seamless. 
And the challenge to develop new competencies
Obviously, the changes brought about by the above will require HR to develop new competencies. Not only for herself, but for the workforce to keep the  organization relevant and competitive.
Ms. Jimenez challenged HR practitioners to embrace HR technology in particular, and the advances of social web, tools and devices in general,  to stay relevant and competitive.
How should HR respond?
I have a simple answer, LEAD. But this is easier said and done.
HR 3.0 Leadership
Leadership in an era where HR technology abounds  does not mean you have to be a geek and you know everything there is about the HR technology and the tools, apps and internet in general. It's about facilitation- tapping on someone else's expertise and share the leadership responsibility with them. In our case, HR should be willing to share the lime light with IT and Marketing.
IT – because they are in the best position to test the risks, advantages and feasibility of making HR services digital, social and mobile.
Marketing – because the end goal for branding and marketing campaigns are not only to generate revenue and good PR, but also to make the company attractive to the job market, and transform the existing employees brand ambassadors.
Preparing the Organization
Begin with Framework
Though adoption may still be a distant future (to some companies), HR can still lay the right foundation by future proofing the framework.  This can be done by having the right philosophy and policy statement.
Add Value
The operating principle  is "add value"–  to HR Services, Employer Brand, Employee Engagement and Employee Relations.  This shall serve as the cornerstone to the four pillars of HR 3.0:
Policies and Procedure (P/P)
Organization Structure (OS)
Workplace Learning and Development (LAD)
Employee Programs (EP)
The four pillars shall ensure adoption to technology will not backfire and affect operations.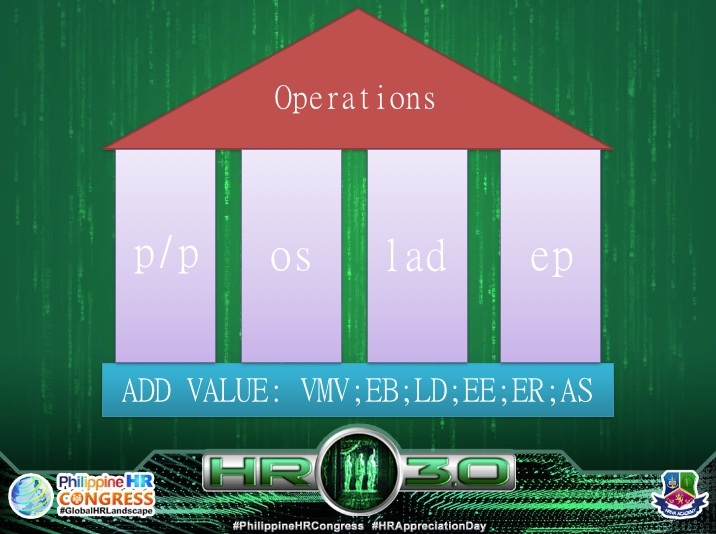 Dynamics of the Four HR 3.0 Pillars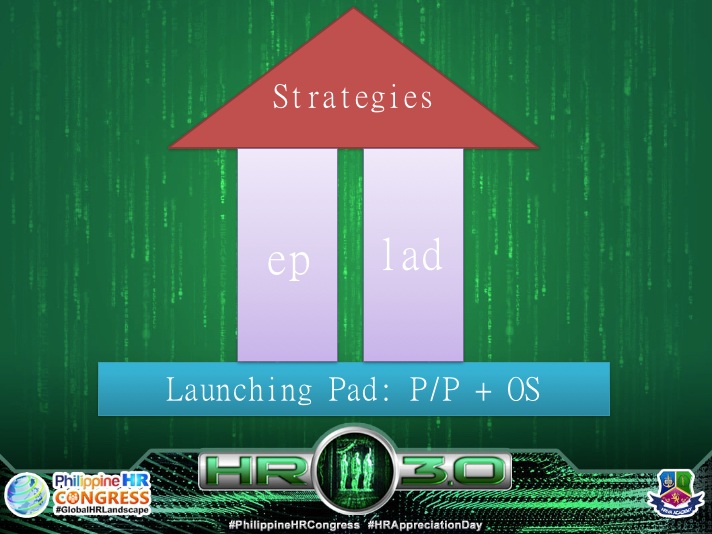 Policies, procedures and organizational structure serves as the launch pad. While the employee program and learning development shall serve as rockets that will lift your value adding strategies. Without the launch pad, your strategies will fall apart.
It's easy to spot an organization whose OS and P/P is "not" HR 3.0 ready
When your policy cannot address issues related to the use, or misuse (whether intentional or not) of internet, social media and technology in general.
When employees use their personal account for work purposes.
When inquiries about job postings on various groups remain unanswered
When employees join  various groups even though these are not their target audience/ Or when employees spam groups with unrelated posts/ Or they join various groups and start posting without reading the rules
When there is no specific point person to manage social media presence
When there is no clear strategy and goals when using the digital, social and mobile platforms.
When employees are not properly trained on how to do social media marketing, and the ethics behind it
Let me close this blog post with the contrasting direction of HR from the opposite sides of the planet.
In Asia, if my appreciation of the conversations is correct from the two gatherings of Shared Services and BPO bigwigs in Asia Pacific, HR is expected to steadily move towards metrics based operations and automation, and prepare for robotics.
In the US, however, there is an article suggesting to bring back the humanity in HR

With HR 3.0 now, and probably 4.0 after 3 years, 5.0, 6.0 and so forth in the future, Human Resource should never drift  from our original mandate– and that is,  to be the heart of the organization, and celebrate humanity in every enterprise and civil service.
Have you future proofed your organization? Share your insights in the comment section below!




Liked this article? You can