DOLE's Labor Advisory 06 s. of 2020 mandate private companies to release the final pay of separated employees, whether resigned or terminated, in 30 days. In the same advisory, DOLE advised companies to release employees' certificate of employment, 3 days after receiving the request.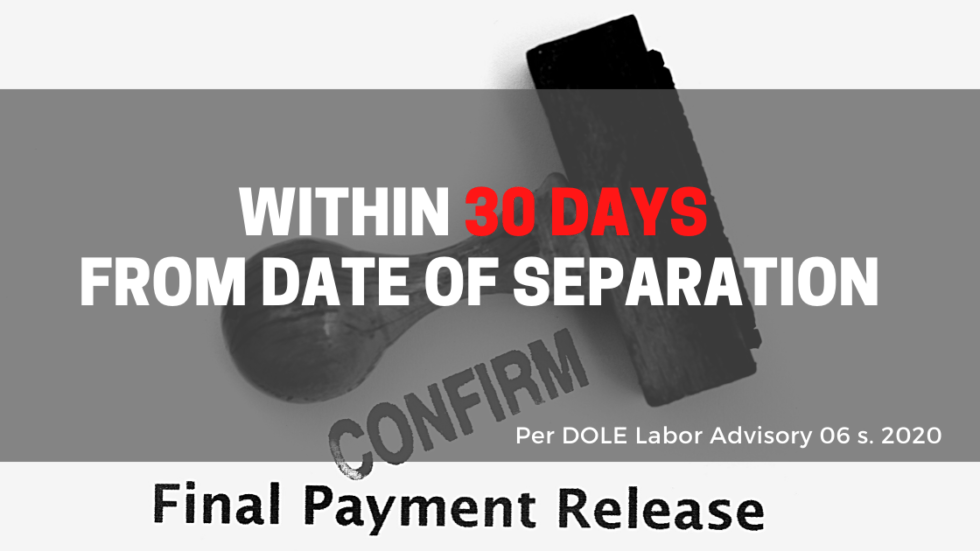 Finally!

The Direct Manager and the Accounting and/or Payroll will no longer have an excuse to delay the process of the clearance and final pay of separated employees. Likewise,  weaponizing the Certificate of Employment (COE) will be reduced if not eliminated.

Before this advisory. R/F employees who are expecting roughly P 3,000 to 6,000 worth of final pay will have to wait 60 to 90 days just to get their final pay. Employees, likewise,  are being threatened not to be given  COEs if they will AWOL  or not agree to the extension of employment until a replacement is found.

These  injustice are commonly experienced by  R/F employees after they are resigned, terminated or contract is ended.


However

The timeline given by DOLE may be too tight for employees who have greater responsibilities. Those occupying positions of trust and confidence, or those whose accountabilities observe cycles and cut-offs. It may take  30 days before all accountabilities with monetary components (ex. billing cycle of post-paid mobile, in-house credit facilities for retail companies) can be factored in. A 45 to 60 days timeline is more realistic.


Likewise

Appropriate attention (and action) needs to be given to employees who left the company in bad faith. These employees are those who


In these situations. the employer have the right to withhold the financial equivalent of employees accountability

G.R. No. 202961 February 4, 2015

"The Civil Code provides that the employer is authorized to withhold wages for debts due:

Article 1706. Withholding of the wages, except for a debt due, shall not be made by the employer.
"Debt" in this case refers to any obligation due from the employee to the employer. It includes any accountability that the employee may have to the employer. There is no reason to limit its scope to uniforms and equipment, as petitioners would argue."

But employer might be at the disadvantage because civil liability is not a good deterrent to some ex-employees who do not mind the risk. The corresponding consequence to them is bearable.


And…

Some HR professionals are expecting difficulty in the implementation of this advisory because it failed to factor in the processing of clearance. Could have been better, they said, 'if 30 days will start after the completion of clearance'.

My take on this is for companies to conceptualize or adopt a policy that will ensure clearance, computation, and payout will be completed in 30 days.

It may also help if the policy can clarify when a clearance should be processed (during rendering or after separation) and by whom (concerned employee, hr, or accounting/payroll). What to do in situations when an employee is not cooperating in the clearance process. And the steps required by law to proceed deducting from the employee's final pay the monetary equivalent of the uncleared accountabilities.


You can download your copy of LA 06 s.2020 at DOLE website.


What is your take in this advisory, do you think the 30 days timeline is doable?




Liked this article? You can