By integrating HRinHR in an organizations strategic framework, a company cultivates a culture that is conducive to productivity, and as a result, can have better bottom line and improved standing in the corporate community.


Human rights in human resources is not a lip service advocacy. When applied, it'll help organizations respect human rights and dignity in HR management and operations.  Below are sample integration of HRinHR: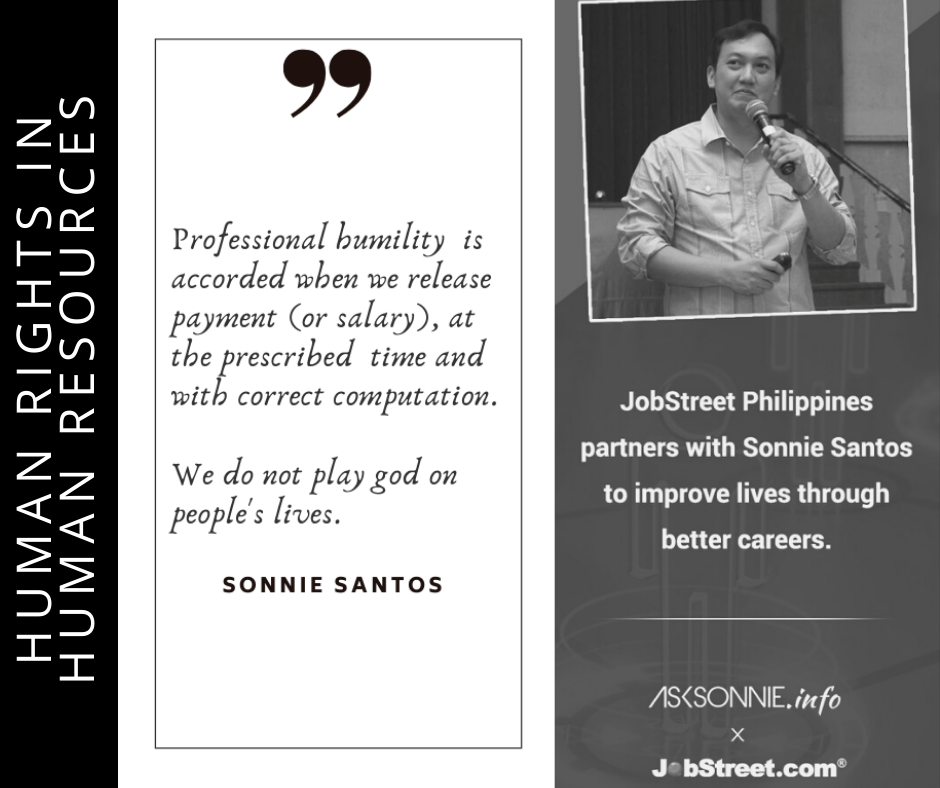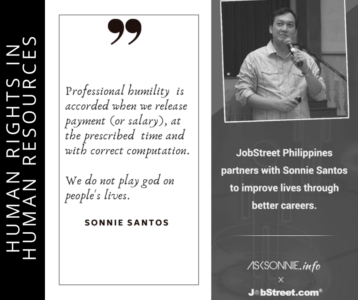 What is Human Rights in Human Resources (#HRinHR)?
HR in HR is the integration of human rights principles in business, and people management and operations
As per Article 29 of the Universal Declaration of Human Rights (UDHR) HR professionals are somewhat an advocate of human rights as a matter of social responsibility. HR pros, being the champion on culture enhancement, employee engagement; and being the one responsible for HR processes and strategic policies, are natural duty bearers of #HRinHR."
HRinHR Workshop

HRinHR can be an effective exercise to help HR professionals, if not the entire management team, in identifying employee service points that impacts employee engagement and retention. This includes, but not limited to  the timely and accurate release of employee salary and benefits, culture and values enhancementemployee engagement programs that encourage open communication, safe environment and discipline system that observes substantive and procedural due process.


HRinHR Checklist

HRinHR is also a tool to help strategic policy makers and HR business partners align company policies, corporate culture and values, to that of best practices in business and human rights, national and international laws. These include, but not limited to, non discrimination, gender equality, cybercrime,  data privacy, general labor standards, occupational health and safety.


Likely Benefits of HRinHR

When human rights are observed in business, it can bring these benefits:


Effective DEI Program

An effective DEI program had its core foundation on the socio-economic-cultural human rights in organizational interventions. This will shape the core values, mindset, culture, and processes of the organization. These rights will directly impact the "inclusion" aspects of DEI, as they will foster fair allocation of resources, leadership accountability, elimination of both environmental and behavioral microaggressions, and a culture of belonging.



Less trouble with regulatory bodies

When an organisation complies to the minimum requirements of the law—in this case, human rights of employees—then they will have less trouble with our regulatory bodies.

More than any CSR initiatives, employees should be the priority and primary responsibility of any company. Needless to say, employee welfare is the first and foremost obligation of companies to society.


Attract and retain good talents

A recent study commissioned by Jobstreet, re: laws of attraction, points to one of the gripes of Filipino employees are companies who are not socially responsible (non compliance to the minimum standards of the law and/or no CSR program).


Customer trust
If a business properly respects human rights, then in all likelihood, it will be more profitable – Richard Karmel, Partner at Mazars

59% of US consumers surveyed saith they'd be less likely to buy from a company it they knew they have suffered data breach (Deloitee, 2015)

Only 25% of US Consumers believe most companies handle their sensitive personal data responsibly. Yet 72% believe businesses, not government, are best equipped to protect them. (PricewaterhouseCoopers, 2018)

I believe, consumers in the Philippines have similar sentiments, thanks to civil society groups like FMA, who are educating Filipinos about business and human rights.

Observing human rights in business is a social investment, the return of investments is high trust rating from customers.


Growth opportunities

If a company wants to enter into partnerships or seeks new investors, trustworthiness, good reputation, compliance with the law will come-in handy. A high trust rating from customers, an employer of choice from the job market and compliance to national and international laws will likely result to growth opportunities.

It is common knowledge that companies wanting to do business with multinational clients will likely lead to careful scrutiny, specially those from companies who have presence in the US and European countries.

Add to that, there are investors representing 5.3B USD who are supportive of the UN guiding principles of business and human rights.

So it is wise to put our businesses in order and establish good housekeeping practices, while waiting for the growth opportunity.


Care to share your thoughts?




Liked this article? You can