DO 209 CAMP outlines how the Gov't will help employees who were affected by the measures to contain COVID-19 in the Philippines. Because of the numerous  questions it caused, we deemed it proper to hold an online forum with DOLE to have it cleared.

Related COVID-19 articles: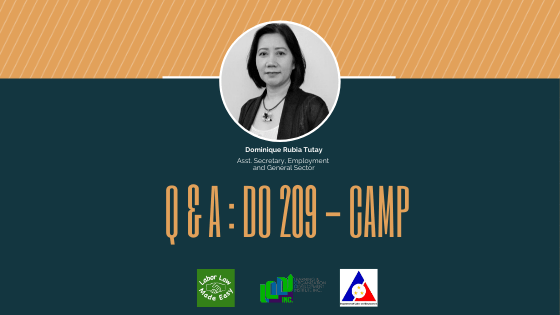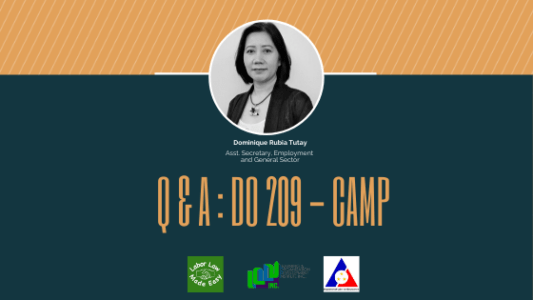 We had ASec Nikki Tublay of Employment and General Administration Cluster-DOLE, she is involved in developing programs to affected employees caused by natural calamities like then Taal eruption and now COVID-19.

Q & A Hour w/ DOLE: Implementation of D0 209 CAMP
Copy of DO 209 CAMP (COVID 19 Adjustment Measures Program For Affected Workers)
Labor Advisory No. 12-2020: Clarificatory Guidelines on the COVID-19 Adjustment Measures Program (CAMP)
Transcript of the Q and A with ASec Nikki about D0 209 CAMP


*FWA- Flexible Work Arrangement
*ECQ- Enhanced Community Quarantine
*WFH- Work from Home
*CAMP- COVID 19 Adjustment Measures Program

Q– How do we treat the attendance of employees during this ECQ period? Can this be filed as paid leave?
A– gaya ng unang pronouncement ni SOLE, gagamitin ang leave credits ng workers; pag naubusan, no work. No pay will apply; kaya nagbibigay ng financial assistance para ayuda on the ECQ

Q– If the leave credits have been consumed, can this be filed under SSS similar to SSS Sickness notification?
A– if may sickness during the ecq, for as long as docs are presented, sss and ec, covid 19 included; can also apply for calamity loan; pwede din gamitin benefits ng philheatlh

Q– What is the difference of FWA and temporary closure? Since most of the companies are closed due to lockdown?
A– "FWA – prior to pronouncement on ECQ, like hotels and restos, bumaba no. of guests and kita, nagbawas ng oras and araw, job rotation, wfh – this is the fwa. Temporary closure or suspension – totally wala ng operation, sarado, tulad ng nangyayari ngayon na sarado mga companies except those identified to operate"

Q– Is it applicable to all regardless of employment status such as probationary employees? OJT? TESDA Apprenticeship program receiving 75% of the minimum? Paano kung agency hired tapos yung client po ang nagdeclare ng forced leave? Fixed term? Project Based? Foreign employees?
A– regardless, lahat ng workers in the formal sector, regardless of the status of employment; for as long as they are in the payroll

Q– Are there specific companies to be covered, in terms of industry or number of employees?
A-based on the guidelines of DO 209, this is extended to Micro, Small and Medium Enterprise. SOLE Bello has appealed to the large companies to just give to the employees

Q– Is this for NCR only? Or the entire Luzon or whichever other region that will be on ECQ?
A– This is nationwide, all areas covered by the ECQ.

Q– Since subject for approval ang pagapply ng financial assistance with DoLE, so no need for the employer to advance this to affected workers?
A– DO No. 9, nananawagan na tugunan ng large companies ang sahod for the month of March, pro rated 13th/14th month pay; CAMP is for Micro/Small/Medium enterprise large companies may apply but will be given less priority

Q– Currently our emergency leave credits for the employee is 5 days.. it was stated in our company handbook. But due to current situation the management decided to stop the operation starting Mar 16 until further notice and extend their emergency leave up to 14 days to avoid no work no pay. Will it be possible that the 5k assistance per.employee will be given to employer instead for covering up the additional benefits given to them.
A– kung ano ang binigay or pinangako na sa employees, let's give it to them; if leave is extended ibigay na and dagdag na lang ang financial assistance sa CAMP

Q– is it ok if our payroll is not thru bank, but thru gcash atm?
A– If company payroll is not thru bank, financial assistance will be sent thru money remittance centers, diretso sa account ng employee

Q– for piece rate and trainees are they also qualified? Consultants? Senior mgt?
A– basta employee, basta nasa payroll ng company

Q– Our Company will be paying our employees who will not be able to report for work with 60% of their basic pay. With that, since there is partial loss of income, will our employees be eligible for the Financial assistance?
A– entitled sila kasi may partial loss of income

Q– In the dole form for ecq employer adjustments, it was stated that flexi work arrangements should have been filed at least a month or a week before the implementation. Considering that we have just been informed and the flexi work arrangements are just being activated, is it ok to still file? Who will be covered?
A– file anytime immedaitely; forms have been revised accordingly so anytime, it can be filed; progressive filing everytime may macover ng ECQ na area/region

Q– Is there a deadline of filing?
A– none. Basta file immediately

Q– For reporting of affected workers – does the advisory refers to workers without leave credit yet or have already exhausted all their leave credits?
A– para sa lahat; those with leave, those sa naubos na.

Q– Can you give specific reasons why applications for the financial assistance would be denied except for misinformation?
A– within 3 days, dole will evaluate; kaya hinihingi ang payroll at app form para maevaluate; if may inconsistencies, sasabihan ng Regional Office sa nakitang deficiencies sa application

Q– Kahit po ba mga new hire for this march ay makakatanggap?
A– basta nasa payroll;

Q– Do we submit per branch/ store location or just for the mother company?
A– "if payroll system is centralized – mother company; if localized, per branch; so per payroll group/registry ang filing"

Q– Is payroll register needed for submission be certified true copy?
A– opo, basta yung nanggaling sa company

Q– What if the employee does not want to charge their absences in their leave credits to save it for future use. Can the employees consume their VL only and not their SL credits and still be eligible for the CAMP? We just want to reserve their SL for the rest of the year since it is still March and they might need it for the remaining months of 2020. Will they still be entitled for the financial support coming from DOLE?
A– yes, may leave credits or wala entitled

Q– We have an affected worker who is in his senior already..and receiving sss pension too..We hired him as Liaison, will he still be covered? Also what about those who do not have bank acc?
A– entitled, basta nasa payroll

Q– If DOLE denied the first submission, can we re submit? Can they tell us what needs to complete?
A– Pwedeng magre-file. Within 3 days, DOLE will evaluate. Kaya hinihingi ang payroll and forms, if may problem,sasabihin naman ng DOLE kung ano ang problem.

Q– Is there anyone will answer our phonecall or at least acknowledge our email once the application has been submitted?
A– yes, per region, directory/list of email addresses per region will be provided

Q– How can we protect the data that we are sending to DOLE. Should we encrypt it then send the password on a separate email?
A– no need, masyado ng meticulous

Q– Latest payroll if weekly just 1 week or we need to submit 1 month payroll.
A– ok lang, last payroll – weekly, monthly, semi monthly

Q– For new hire employees that were not part of the last payroll prior the flexi work arrangement, what other documents/requirements the employer may present.
A– indicate na lang sa application na new hire, then regional office will evaluate

Q– ung mga nagrerender po ng resignation, kasama pa rin ba sa magkakaroon ng 5k subsidy from DOLE?
A– basta nasa pevious payroll

Q– Is there any rule for no work no pay for upcoming holy thursday and black friday?
A– laging may advisory na nilalabas ang DOLE everytime there is a holiday ; expect in the coming weeks

Q– Is it legal po ba if we provide cash advance but later on after they recover the cash advance will be deducted to there salary? Private sector po kami
A– legal naman basta makakatulong sa workers; important, agreed upon by employer and worker,may ATD

Q– Do City Mayors have the right to amend any of the items in the DO?
A– no, that's DOLE program

Q– is giving away in advance the pro rated 13th month of employees are mandatory
A– not mandatory but it's the appeal of the SOLE Bello

Q– Ask lang po paano po pag part time teachers? Paano po ang treatment sa kanila?
A– yung sa academe kasi they are paid via tuitition and since patapos na ang pasok, naconsume na nila ang sweldo; not wntitled to the financial assistance kasi bayad na serbisyo nila for the period

Q– Wage distortion factors in event of wage order within the year.
A– wala pang naguusap on the wage order

Q– Regarding Moratorium ng Pagibig loan payment, applicable po ba ito sa mga Companies na may regular payroll during quarantine?
A– cannot respond to this kasi it's another agency

Q– May additional pay po sa employee if they still doing transaction outside. example mga bank transaction for the company. entitled po ba un sa additional pay?
A– whatever is provided for by DOLE

Q– if ever iba-iba ang closure kasi the business is all over the Phil, do we still idicate the date of closure in the app form; one company, pero ibat-iba ang closure dates based on mall sked
A– yes, may column on the effectivity date of the tempo closure; pwede maglagay ng additional column on the closure effectivity date

Q– affected march 14 onwards, with the document payroll, ano po dapat isubmit na payroll?
A– kung ano ang latest payroll na available

Q-is it ok if the company can impose the No Pay leave instead of the Forced leave na kung san mautilize muna dapat ang leave credits
A-dapat mautilize muna kasi sa manggagawa yun

Q-WFH and redictuon of workhours, separate filing ng FWA?
A-pwedeng isang filing but indicate the number of affected worker per work arrangement

Q-what if for this week WFH, then the folliwng hindi na? alternate wfh, apnoi reporting?
A-if you will read carefuly DO 209, everyone who is affected is eligible to apply, this is reduced work hours/days/ even job rotation, so elogible sya

Q-skeletal workforce na enforced papasok ba sa reduction of workplace
A-skeletal workforce ba continuous operations – and evetually magreduce ng workhours – moving forward, i-apply na;

Q– Sa payroll dapat ba lahat ibigay ang names ng employees or affected lang?
A– By payroll group, lahat ng affected


Transcribed by Wowie Roque, HR Head of MotorTrade
Assisted by Cath Co, HR Head of Metro Oil



If there are still unanswered Qs, post it at the comments section and we will try to get an answer





Liked this article? You can