Even with the economic effect of the COVID-19 pandemic, an employer cannot arbitrarily downgrade regular employment to probationary.
Gud am po. Sir ask ko lang po if allowed po na gawin ng company ang regular employee na ibalik sa probationary? Yung ginawa po kasi sa amin is ung mga admin at supervisor mananatiling regular employee smantalang kami na (regular employee) cashier, service crew, at cook pagpipirmahin ng ENDO tapos balik probitionary ulit kmi. Pwede po ba yung ganun? – Joy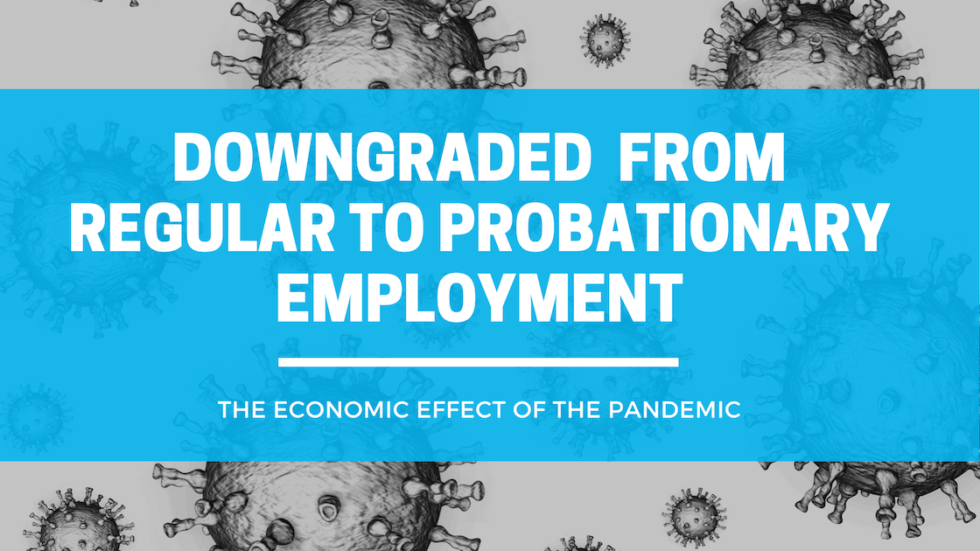 Hi Joy,
Given the challenges brought about by the
COVID 19 pandemic
, downgrading regular employment to probationary is not among the allowed interventions. What your company can do is limited to the following:
Flexible working arrangements, as a relief to struggling companies because of the economic effect of the lockdowns were made available to employers thru DOLE Labor Advisories  9 and 17 s. 2020. These options include temporary (1) reduction of work hours/days or (2) reduction of salary which need employee consent, (3) transfer to other role or satellite sites for large organizations, and  (3) work from home.
If the above has been exhausted and the situation has not improved, the employer can float employees for a maximum of 6 months.  And if there is still no relief, the employer is authorized to terminate employment but the company needs to observe due process. In this case, 30 days notice to both employee and DOLE, and separation pay on top of the usual final pay-out for resigning employees (if applicable, unpaid salary, cash conversion of accrued and earned SIL/VL/SL, pro-rated 13th-month pay, tax refund, cash bonds and alike)


I embedded a video of a similar discussion for your reference. I highly suggest that you take the time to watch this.


Please note that I can only give advice based on the information you provided, and if I misunderstood the context of your situation, my advice can be erroneous. However, with the info you gave, what the employer did thru your HR is unusual and you are within your
rights
to seek clarification from them, and if need be, sought help from regulatory bodies.
For my HR professional and business owner readers


I'm wondering what drove the HR or the biz owner to resort to this action? What do you think are the likely reasons?





Liked this article? You can