Why put an employee to preventive suspension


According to Supreme court: Gatbonton vs. NLRC (G.R. No. 146779, January 23, 2006)

"Preventive suspension is a disciplinary measure for the protection of the company's property pending investigation of any alleged malfeasance or misfeasance committed by the employee. The employer may place the worker concerned under preventive suspension if his continued employment poses a serious and imminent threat to the life or property of the employer or of his co-workers. However, when it is determined that there is no sufficient basis to justify an employee's preventive suspension, the latter is entitled to the payment of salaries during the time of preventive suspension."

Please read the following to get a wider understanding of the topic: 
  
- How to write notice to explain memo
- How to write a notice of decision memo
- How to conduct an administrative investigation
- How to write a notice of administrative meeting
- Due Process and Employee Relations
- Due Process and Employee Resignation
- Progressive Discipline
- Termination: Just Causes
- Termination: Authorized Causes
- Termination: Health Reasons
According to Omnibus Rules in Implementing Labor Code

"Section 8. Preventive suspension. The employer may place the worker concerned under preventive suspension only if his continued employment poses a serious and imminent threat to the life or property of the employer or of his co-workers" (Rule XXIII, Book V).

This kind of suspension shall last longer than 30 days (In JRS Business Corp. v. NLRC, et. al., 246 SCRA 445 [1995], the Supreme Court penalized the employer to pay indemnity in the amount of P1,000 when it violated the maximum 30-day preventive suspension.) The employer shall thereafter, reinstate the worker in his former or in a substantially equivalent position (actual reinstatement) or the employer may extend the period of suspension provided that during the period of extension, he pays the wages and other benefits due to the worker (payroll reinstatement). In such a case, the worker shall not be bound to reimburse the amount paid to him during the extension if the employer decided, after completion of the hearing, to dismiss the worker.


How to put an employee to a preventive suspension

You may include the notice of preventive suspension on the notice to explain


Can abuse of this be a ground for constructive dismissal?


Yes, when preventive suspension exceeds the maximum period allowed without reinstating the employee either by actual or payroll reinstatement (see Hyatt Taxi Services Inc. vs. Rustom M. Catinoy, G.R. No. 143204, June 26, 2001), or when the preventive suspension is for an indefinite period (see Pido vs. National Labor Relations Commission, G.R. No. 169812, Feb. 27, 2007), constructive dismissal will set in.


What violations are not covered by this kind of suspension?

The Court held that it is improper for the employer to place under preventive suspension employees charged with violation of school rules and regulations on the wearing of uniform, tardiness or absence, and maliciously spreading false accusations against the school. (See Woodridge School vs. Pe Benito, G.R. No. 160240, October 29, 2008.)

For preventive suspension to be legal, there should be an imminent threat to life and property.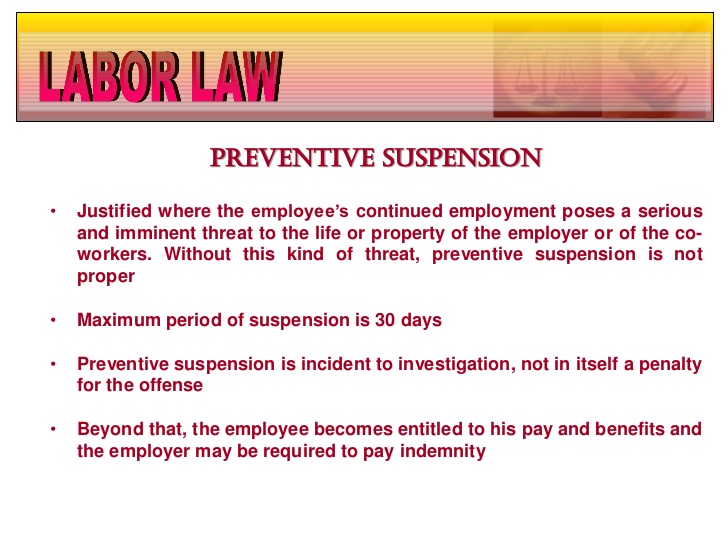 Disclaimer: The articles found on this blog do not constitute legal advice, and engagement/discussion does not signify a professional-client relationship. Likewise, subsequent court and administrative rulings, or changes to, or repeal of, laws, rules, and regulations may have rendered the whole or part of this article inaccurate or obsolete.

Liked this article? You can