Because of the COVID-19 pandemic, companies were forced to go digital and work online. While this is good news in a way, not all companies have digital and social savvy HR. And only a few organizations are ready structurally to plunge online.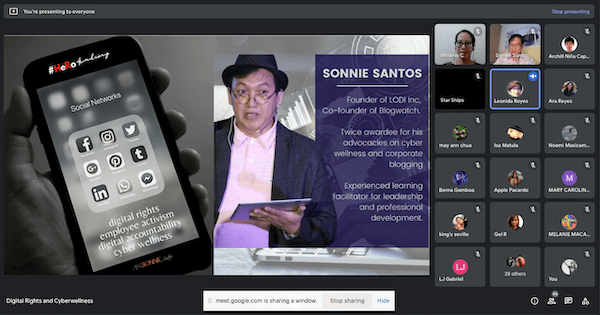 In our #HeRoConverssession on July 29, 2021, we briefly touched on the common work online practices  implemented by most organizations when they were forced to go digital, some of which are:
Personal or semi fake social accounts were used for work purposes
Personal gadgets and common internet gateways were used to access corporate files.
Work from home, flexi-time style.


Why these can be problematic?


Personal social or semi-fake accounts were used for work purposes


Semi fake accounts are accounts that are neither official company channels nor personal accounts of the employee. Allowing the use of personal or semi-fake accounts is value negating to both employee and employer.

On the part of the employee, such practice will result in some losses of personal space and privacy.

One good example of this problem is in recruitment. If HR is in the habit of not getting back to the applicant on the status of his/her application in a timely and professional manner, or if the company flip-flops on its decision to hire,  It is the personal account and space of the employee that will be bombarded with complaints and harassment.

On the part of the employer, this practice can cause reputational damage (employer branding).

The online behavior of the employee, whether using personal or semi-fake accounts, affects the reputation of the company.

Well for one, a company that doesn't have an official digital persona can be perceived as less stable and less trustworthy.

Likewise, it is a fact that the "call-out" and "cancel" cultures are deeply ingrained in our digital environment. Both have something to do with our right to "free speech and expression".  When employees exercise these rights using their personal or semi-fake accounts and for whatever reasons, they became a party to abuse speech, it will directly affect the reputation of the company.

Not too long ago, an employee of a multi-national company was severely reprimanded for his disrespectful comments in a Linkedin post. This has something to do with a blog post about the alleged Atenista who refused a generous job offer.


Personal gadgets and common internet gateways were used to access digital or corporate files


I will not be too technical about this but consider these possibilities. Our personal gadgets, from lap-top to smartphones are personal. And certainly, we are also using this for entertainment and pleasure.

Whenever we download and decide to use an app, we are giving permission to access parts of our device, such as storage, camera, microphone, contacts, phone, and browsing history. Whenever we use our browser, we also give certain permission to allow the use of cookies,  which record our passwords and other personally identifiable and money-related credentials.

We may accidentally download entertainment or gaming-related materials that contains malware. We may receive and inadvertently clicked a phishing email and gave access to black hat hackers who can hijack our device or important files.

So if you hold a position of influence in your company and are reading this, you need to rethink this practice.


Work from home, flexi-time style


Wifey is part of the academe and as you know, they mostly work online. I have to call her and our common friends' attention for being unmindful of their work behavior. They will hold seminars and meetings even on weekends. And they are on their toes for 12-16 hours on a regular weekday.

This problem, I believe is common to those working offsite. On the employers' side, they are after productivity because they assume employees are always on relax mode. Some will even resort to requiring employees to keep their zoom app open during work hours.

Employees, on the other hand, have lost their personal space and their haven for rest and recuperation. Well, this space is now closely associated with work, one of the stressors

On one end, WFH has taken a toll on employees' mental wellness. On the other end, employers are struggling to keep productivity at an acceptable level.


We concluded the session, with a discussion of the framework that will address the issues we discussed above. The gist of which is the fusion of
Digital Rights
Digital Hygiene and
Digital accountability
The right balance of the above factors can enable the company to enjoy the benefits of work online minus the unnecessary issues.





You can request access to the recorded session at the

ASKSonnie YouTube channel,

for a minimal fee or get professional assistance on accomplishing the above for your organization. You can leave a comment, shoot an email to asksonnie[at]outlook[dot]ph or send us a message via messenger

Liked this article? You can